Cookware sets that are indispensable in the kitchen are those that allow you to cook any kind of dish while having everything at hand; a self-respecting set includes not only frying pans and casseroles but also lids, ladles, forks, and anything else you may need while cooking.
Today I want to tell you about one good kitchen brand that pleased me and my friends with its affordability and practicality of use in the kitchen.
I'm talking about the Country Kitchen brand. Further in the article, you will find interesting products of this brand, which will definitely be useful to you in the kitchen.
EDITOR'S CHOICE
9.5
Country Kitchen Measuring Set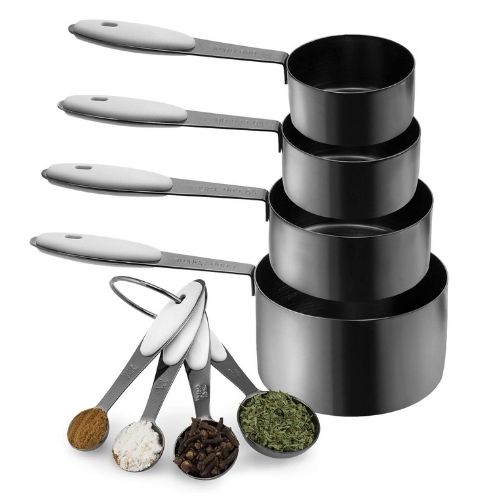 8-Piece Gunmetal Set
Sizes engraved in handles
Hand wash with warm soapy water
PREMIUM PICK
9.8
Country Kitchen Silicone Cooking Utensils Set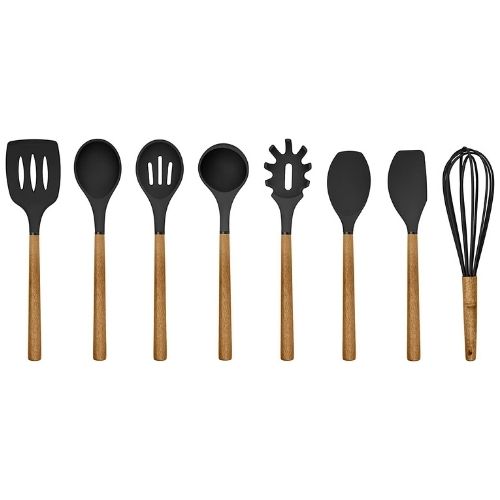 Safe to use with nonstick bake-ware
Perfect for a gorgeous gift
Heat resistant up to 450° F. BPA free
BUDGET PICK
8.5
Country Kitchen Wooden Kitchen Tools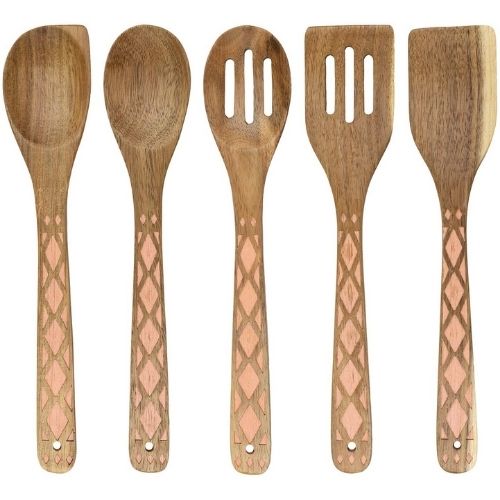 Crafted from natural acacia
Safe for use on nonstick cookware
Ideal for tossing a salad, serving up pasta
Country Kitchen Measuring Set
Features:
8-Piece Gunmetal Set
Sizes engraved in handles
Hand wash with warm soapy water
Incorporate this chic set of gunmetal measuring cups and spoons into your kitchen's décor and keep in line with the latest interior design craze. Now is the time for all things metallic, so make sure you do not miss out, accessorize your home and kitchen with metal hues and styles. Aside from being a trendy and fashionable piece with a beautiful design, this set of measuring utensils is intended to be easy on your hands as well. It features rounded cups and rounded, wide handles with silicone finger rests so you have the necessary control and comfort you need while measuring. Measurements are engraved in the handles in both US and metric measurements for an easy read that will never fade or wash out. A quality set that is easy to clean and will last, this is the set that is exactly what you needed!
Country Kitchen Silicone Cooking Utensils Set
Features:
Safe to use with nonstick bake-ware
Perfect for a gorgeous gift
Heat resistant up to 450° F. BPA free
Country Kitchen's 8-Piece Utensil & Accessories Set combines style and class with functionality and superior comfort and control. Developed with chefs, culinary
enthusiasts and homemakers in mind, this premium silicone set will fast become your most trusted kitchen assistants. Made of durable silicone that is flexible yet sturdy with wood handles that improve grip while performing various kitchen tasks, these professional and colorful utensils are super easy to wash, and always look fresh and clean. Bakers and cooks of all levels and ages from adults to kids will love creating delicious recipes, whipping up batters and eggs, icing cakes and handling cookies, and mixing and serving pastas and spaghetti with these spatulas, scrapers, spoons, servers and whisks.
Country Kitchen Wooden Kitchen Tools
Features:
Crafted from natural acacia
Safe for use on nonstick cookware
Ideal for tossing a salad, serving up pasta
Bring a touch of nature indoors with Country Kitchens 5 Piece set of acacia wooden kitchen utensils. These utensils feature homey acacia one piece seamless wooden heads and handles with a colored inlaid design. These handsome spoons, servers and turners will add class and style to any salad, fruit or pasta dish adding a vintage effect that is madly in line with the current décor style and trends. Dress up salads and serving bowls with this attractive set that will catch the eye, or give as a gift to fashion-conscious friends and family as well. Made from acacia, a naturally durable and water-resistant wood these utensils will not scratch your pots and pans and the wood won't transfer heat while you are cooking.
Country Kitchen Steel Gadget Set
Features:
6 kitchen tools included
Gadgets with soft touch, non-slip handles
Stylish and trendy look
Whether you are outfitting a new kitchen or you just feel like updating your existing one, this stylish and trendy gadget set will add a modern and classy edge to your kitchen décor. With its sleek gunmetal look and grey handles, it brings a chic look to any kitchen décor with a classic easy to use design. You will appreciate purchasing them as a set; a set saves you time and money, and you will love the uniform look they create as they are lined up on your counter. This set includes all those specialty utensils that make your time in the kitchen more enjoyable and simple. A can opener with oversized handles and a large knob, a smooth pizza cutter, a sleek ice scream scooper, a handy cheese grater, a vegetable peeler and a trusty whisk to beat your eggs just right!
Features:
10 kitchen tools included
Ideal for non-stick surfaces
Ultimate gift idea for a friendk
This deluxe nylon set with stainless steel handles, will add color and taste to your fashionable kitchen. Quit wasting time trying to track down a utensil, keep your set within reach by hanging it from the convenient hooks for easy access or by simply placing them on the counter in the chic cup holder. Cook, bake and grill and achieve just the right texture and taste. Whisk is designed with a silicone over-mold on stainless steel wires so you can blend and mix with thoroughness and keep your expensive bake-ware scratch free. Tong features nonslip good grip handles and a scalloped silicone head to assure you have complete control while cooking, and is equipped with a locking feature that is user friendly by pulling the secure locking ring outwards.
Also Read:
Guide to buying a good kitchen tool
Without the right tools working in the kitchen can be a disaster. That's why you need to carefully choose the ones that best suit your style and dining habits. When shopping, it is also important to consider which materials to prefer: if the traditional steel and wood are still at the top of the list of favorites, today it is possible to choose new ones that perform better and are lighter.
Allergies and intolerances are also parameters to be taken into consideration in order to make the right choice. Not all materials are waterproof and some incorporate food particles with every use. It is the case to carefully evaluate the workmanship of the pieces, if there are cracks and other parts where bacteria and bad smell can accumulate. Finally, the possibility of washing by hand or in the dishwasher should guide you in choosing the most suitable model according to your desires and habits at the table.
Disclaimer: Some of our stories include affiliate links. If you buy something through one of these links, we may earn an affiliate commission.