With the exceptional catalog of pots and pans, the Ballarini Cookware has turned everyday cooking more convenient and simple.
An Introduction To The Ballarini Cookware
Today, when you look at the cookware market, there are enormous doors letting you inside worlds of their own. Durability is really becoming one of the most significant kitchen needs.
Ballarini Cookware brings that durability mingled with the twist of craft. Ballarini is truly Italian in every sense. Italian food is about heritage, color, and cultural cuisine; Ballarini aims to celebrate that. The most important feature of any ideal cookware is its nonstick property which tells about its robustness. Ballarini cookware excels in reflecting the non-stick feature because of its exceptional PFOA-free Teflon origin.
The Tremendous History Of Ballarini Cookware
Ballarini was born right from the craft of Paolo Ballarini in 1899. He was the artisan who used to craft bird cages with the power of his fascinating craft back in the little town of Rivarolo Mantovano. His art took a new dimension when he started crafting cookware from tin-plated metal. Thus, Ballarini was created out of sheer art and knowledge of generational heritage.
Best Ballarini Cookware Products
Every single product from the Ballarini cookware catalog is exceptional in terms of durability. However, as of now, three of the most popular products are the following:
1. Ballarini Parma 10-pc Nonstick Pots And Pans Set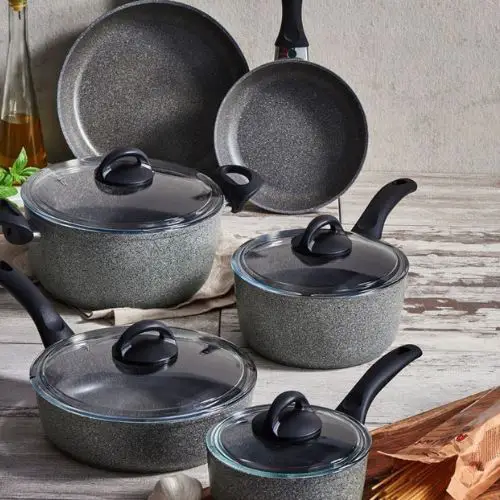 Features:
Robust and sturdy
Forged Aluminium Body
Two frying pans, three saucepans, and a Dutch oven are included in the set. 
Rivetless body
If you are a beginner in the world of cooking, the BALLARINI Parma 10-Pc Nonstick Pots and Pans Set can help you become a pro.
The best part is that two different sizes of the pan (8″ and 10″) let you meet all your frying needs.
So all your cooking needs are met right in the form of this set. Each and every pot and pan is a work of art crafted with aluminum built that ensures uniform cooking throughout.
Besides, all the pots and pans included in the set have a triple-layered ceramic and Grantinum coating which strengthens the nonstick layer.
The pans and pots in the set come with a thermopoint sensor which controls the overall temperature, thus preventing the pots and pans from overheating.
Each part included in the set is perfectly safe for usage in an oven up to 160 degrees ensuring ideal oven usage.
Though the Teflon coating is there in the beginning, yet you need to handle it with great care since it wears down abruptly after a few washes.
Because of the triple-layered coating, the overall appearance seems like a stone and that makes the set a bit heavier than usual. Unfortunately, the set doesn't support induction as of yet.
2. Ballarini Parma Forged Aluminum 2-pc Nonstick Fry Pan Set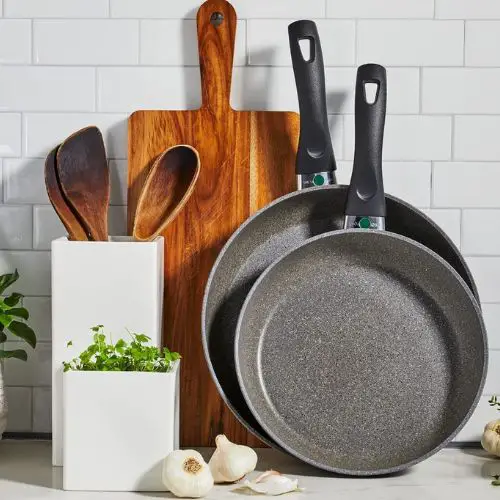 Features:
Two different-sized pans ( (8″ and 10″)
Ceramic specks with Grantinum coating
Easy-to-handle holder
Scratch resistant 
Control overheating
Ballarini Parma Forged Aluminum 2-pc Nonstick Fry Pan Set serves you the best whether you want to relish the experience of a perfect breakfast on a Sunday or that restaurant vibe in cooking.
This set consists of two exceptional aluminum forged cooking pans. Both of them are equally sturdy and easy to handle while you are cooking the best meal.
If you want to obtain the cozy vibe of Sunday morning breakfast, the electric and gas stovetop compatibility make it possible. The Thermopoint technology further keeps a check of the right temperature and never lets your eggs burn while overheating.
Compared to other brands, Ballarini cookware has made the cleaning process of pans very simple. You can simply use a wipe to squeeze all the grease out of your pan, plus the dishwasher adds its own spark. The PFOA-free Teflon is ideal to prevent excessive scratches at the bottom of the pan.
Though these pans are ideal to be used on gas stovetops, yet they don't support induction and glass stovetop which is a major issue. Furthermore, some customers have also reported the sensor gets a bit flimsy after some initial cooks.
3. Ballarini Parma Forged Aluminium 2.8-qt Nonstick Saucepan With Lid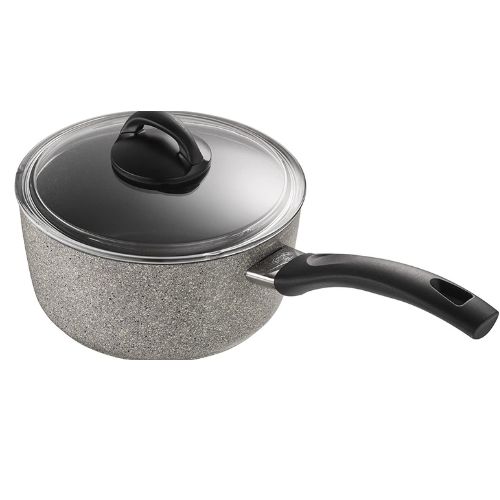 Features:
2.8-qt saucepan 
Huge capacity
Sturdy top lid
PFOA-free Teflon nonstick coating
Stews and soups taste best when they are cooked well. The Ballarini Parma Forged Aluminium 2.8-qt Nonstick Saucepan lets you create your soups with finesse. The lid on the top is perfect to allow simmering at a suitable temperature. From sauces to stews, the sturdiness of the saucepan handles everything with great care.
The non-stick coating at the bottom of the pan requires less oil as compared to other saucepans which ensures a healthier lifestyle choice. It's equally economic as well. Besides, the coating of ceramic is ultra-heat resistant which implies that it's not going to wear off easily over a series of cooking.
Guess, the Thermopoint technology is the hallmark of Ballerini's efficiency, therefore, the risk of overheating is eliminated through the efficient performance of the sensor located in the corner of the saucepan.
The saucepan doesn't require a lot of water for cleaning up. All you need is an active wipe of love to remove all that grease at the bottom. If you are willing to turn it into the dishwasher, then feel free to do so because it's dishwasher friendly and needs a little amount of warm water for its purification. Just like the Parma pan, it is efficiently compatible with both electric and gas stovetops.
Everything comes up with pros and cons, so is the case with this magical saucepan from Ballarini. As of now, you won't be finding a glass stovetop support. Furthermore, this buddy is not yet compatible with induction and for that you have to wait a bit longer.
Ballarini Cookware Materials
PFOA-Free PTFE Component
Any ideal cookware has one special property associated with it: that's its nonstick nature. Ballarini truly believes in nonstick supremacy.
This explains why all of the cookware is made up of Teflon. The best part is the fact that all of Ballarini's cookware uses a PFOA-free polymer of Teflon. Being manufactured with a PFOA-free polymer, Ballarini ensures maintenance of the highest health standards.
You can perfectly rely upon Ballarini for cooking every other meal of the day because the building component of the cookware is non-toxic.
The PTFE polymer used for manufacturing the entire catalog of cookware is perfectly safe to use. Many health specialists have approved the use of cookware and have certified the products as completely friendly to use for cooking.
Aluminium Body & Grantinum Coating
Another interesting factor is that while in the market, nickel is grabbing attention as the chief component of cookware, Ballarini has defined nickel's authority.
Every product of Ballarini cookware is made of aluminum, making the pots and pans ideal for cooking.
In addition to aluminum, a triple-layered ceramic and Grantinum coating is used in the form of specks which gives both the nonstick touch and a stone-like appearance to the cookware.
The Thermopoint Technology
With a combination as perfect as aluminium and ceramics, the thermopoint technology serves as a cherry on top. It controls the temperature and prevents the cookware from overheating. The sensor detects automatically when your food is completely cooked and the amount of heat.
This can be very helpful if you are a beginner in cooking because you will get a helping hand with the aid of a thermopoint sensor. This way the risk of ordinary kitchen accidents can also be minimized.
Ballarini Cookware Usability
Oven-Safe
Whether you want that perfect sear on your steak or want to bake an ideal pan pizza, Ballarini understands every need for perfection. All the products in the never-ending catalog of Ballarini Cookware are oven-friendly.
However, the range of their friendship varies. The pans of the Parma series are oven-friendly up to a powerful range of 300°F, while the current and the more efficient members of Series 3000 and Series 4000 allow oven safety up to 600°F.
Dishwasher Friendly
Besides being oven-safe, they are also dishwasher friendly. Feel free to hand them over to your dishwasher for cleaning because it's not going to destroy the vigor of Ballarini.
Warm water is usually recommended for thorough cleaning after using a subtle wipe or a spatula to clean the leftover food or grease.
Stovetop & Induction Compatibility
The Parma series is compatible with electric and gas stovetops, while the latest Series 3000 further supports glass stovetops too along with the former two. The thermopoint technology makes them ideal to be used on gas stoves.
Besides, Series 3000 and Modena are fairly compatible with induction which is an additional feature added by Ballarini in recent years. This makes the Ballarini cookware a Jack of all trades.
Final Thoughts
No doubt Ballarini cookware has gained a reputable status in the cookware industry in recent times. Compared to the past, now you get to find a wide variety of cookware items included in varying categories.
Each category of cookware is specified to the level of cooking. On a personal level, the Ballarini Parma series is an ideal selection because of the aluminum build and the thermopoint technology.
If you want additional features, then Modena and Series 3000 are more suitable options. Though they can cost a bit more than your expectations, the value for money is never lost in the end.
If handled with great care, you can make maximum use of the amazing features which are incorporated in each product of Ballarini cookware.