You must have come across trendy snippets and videos of people making iced coffees and smoothies in glasses with bamboo lids.
If not, what are you watching on Instagram and TikTok?
These drinking glasses with bamboo lids have quickly grabbed the attention of many people and are making their way inside their homes.
But why are they so popular? Let's find out!
Benefits Of Drinking Glasses With Bamboo Lids
As you might have guessed, bamboo lids have many benefits over their plastic counterparts.
As natural bamboo is used, it is sustainable and good for the environment
Cheaper to buy
Last longer than plastic lids
Bamboo lids are lightweight but sturdy
Most drinking glasses with bamboo lids have unique designs on the glass that give an interesting look to the liquid inside.
3 Best Drinking Glasses With Bamboo Lids
Netany Drinking Glasses 4 Piece Set
Features:
Dimensions: 3 x 5.8 inches
Weight: 2.66 lbs.
Capacity: 16 ounces (oz.)
This NETANY drinking glasses set includes 4 can-shaped glasses with lids made of natural bamboo. You also receive 4 reusable glass straws with 2 cleaning brushes.
The glass used is durable and can withstand daily use. Moreover, it is BPA and lead-free so it is safe to use with food and drinks.
As the glasses are clear and shaped like a can, you can do DIY projects on them and make them unique with your artistic touch.
These glasses from NETANY are dishwasher-friendly as the glass used can endure temperatures between -68°F to 212°F.
Buyers have appreciated the size of the glass as the capacity is the perfect amount and the dimensions make it easier for them to hold the glass.
Additionally, favorable reviews were also received regarding the sealed bamboo lid and the secure packaging.
VITEVER Drinking Glasses 6 Piece Set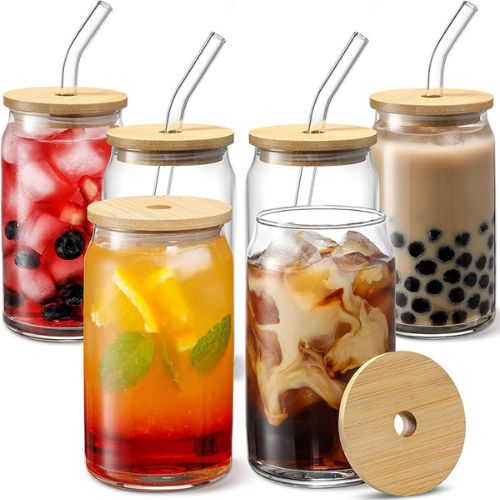 Features:
Dimensions: 4 x 5.3 inches
Capacity: 16 ounces (oz.)
While the weight and the dimensions are slightly increased, the glass still has a capacity of 16 ounces.
By purchasing this set, you get 6 glasses with 6 bamboo lids and 6 reusable glass straws with 2 brushes to clean them.
While the glass is advertised to be strong and sturdy, some reviews stated that the glass is too thin and feels fragile. So even if the box says that these glasses are dishwasher-safe, it is preferable to hand wash them and keep them out of the hands of young kids.
The manufacturer also states that the glasses (out of the box) may have a mist on them but a good cleaning will rub that right off.
According to some reviews, the bamboo lids do not fit tightly on the drinking glasses. This does not keep the liquid inside the glass completely sealed so accidental spills are possible.
Sunnows Vastto 16 Ounce Glass Cups With Bamboo Lids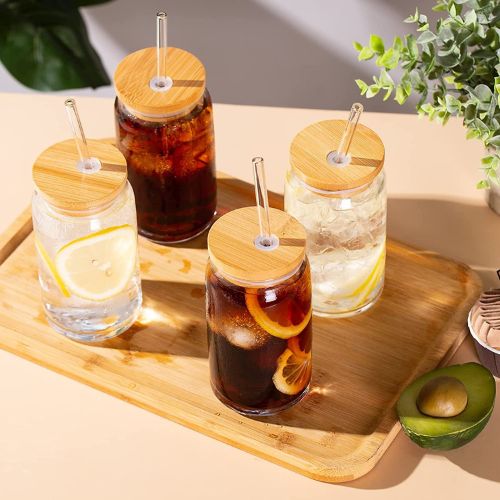 Features:
Dimensions: 2.9 x 5.1 inches
Capacity: 16 ounces (oz.)
By buying this set of drinking glasses from SUNNOW, you get 4 glasses with bamboo lids and 4 reusable straws.
If we look at the dimensions, the diameter of the glass is smaller as the whole glass is ergonomically designed. This makes it comfortable to hold and sip your favorite drink. On the other hand, some reviews claim that the base of the glass is uneven.
The bamboo lids do have a removable food-grade silicone o-ring that seals the opening of the glass and prevents the liquid from spilling.
According to some reviews, the bamboo lids for the glasses have a low-quality coating as a little liquid contact produces mold.
The glass is also thinner and some reviews claim that that may be possible due to bad packaging or handling.
Recipe for Glass Cups With Bamboo Lids
As these drinking glasses have transparent glass, you can enjoy your delicious smoothies, iced coffees, and milkshakes while appreciating them visually as well.
Let's make a dalgona coffee because when you mix the whipped coffee with the milk, the variations in the color and the liquids will be compelling to look at.
You only need 3 ingredients: coffee, sugar, and milk.
Whip 2 tablespoons of coffee, 2 tablespoons of sugar, and 2 tablespoons of water in a bowl.
When it reaches the consistency of whipped cream, add spoonfuls of it on top of the milk (cold/warm) in your drinking glass.
Mix the two and enjoy your beverage.
Are Bamboo Lids Safe?
Lids made of natural bamboo are safe for food and drinks as well as the environment.
Natural bamboo contains antibacterial properties and is free from formaldehyde and BPAs (Bisphenol A).
When buying glasses with bamboo lids, make sure to check the box and the label to see if the bamboo is free from BPAs, PVC, and phthalates.
Do Bamboo Lids Get Moldy?
While bamboo is safe to use, it is not entirely prone to liquids. Contact with water for long periods can intercept the outer coating on the bamboo and cause it to mold.
Continuing on the outer layer, cheaper glasses with bamboo lids may have low-quality outer coating so the bamboo lid may not be safe to use in the long run.
Using a dishwasher to clean the bamboo lids may also remove some of the outer coating little by little due to the hot water. Even if your bamboo lid is dishwasher-friendly, hand wash the lids to ensure their longevity. You can use the dishwasher to clean the glasses.
To Sum Up
Drinking glasses with bamboo lids are a great alternative to glasses with plastic lids. With the addition of reusable straws, they scream sustainability and are eco-friendly for the environment.
But as with all materials, low-quality bamboo may not be safe to use and last longer so be on the lookout when buying these glasses.