Having the most cutting-edge tools in your kitchen is a must if you enjoy cooking. You always need cookware that should be safe for use in the oven, microwave, and dishwasher, as well as devoid of harmful chemicals and simple to use.
While you may not believe it, but ZWILLING provides you with the best choices for your kitchen because of all these benefits and many more. Let's get to know what ZWILLING is and how it makes this all happen.
What Is Zwilling Cookware?
ZWILLING J. A. Henckels AG, a German knife manufacturer, was based in Solingen. He started ZWILLING, which is now one of the largest companies in the world that make high-end kitchen tools, especially knives. But in June 1731, Peter Henckels started this company and made a wide range of amazing cookware.
Zwilling Cookware Benefits
When it comes to design, each item of ZWILLING cookware is exceptionally user-friendly and modern. Every utensil has been meticulously designed. They have also created unusual kitchen goods such as lid clamps, arched rims, and stay-cool handles.
Not only this but its cookware is designed to be classy while being accessible and efficient. ZWILLING products are also extremely durable and long-lasting.
The Best Zwilling Cookware Products
If you still believe ZWILLING exclusively manufactures knives, you are wrong.
It offers a line of cookware that features the same high quality as the brand's cutlery. Its collection contains a wide range of options for updating your kitchen. Starting from basic cookware sets to individual pots and pans, they have it all.
In addition to all this, with alternatives made of ceramic, stainless steel, aluminum, and other long-lasting materials, you can expect these cookware pieces to last for many years, no matter how much you use them.
We've put together a list of the best ZWILLING cookware products to help you decide what to buy.
1. Zwilling Spirit Ceramic Nonstick 10-pc Cookware Set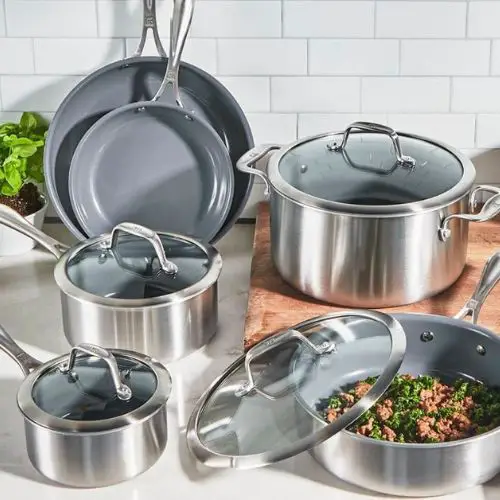 Features:
The cookware set includes 10 pieces (including saucepans and frypans).
It conducts heat equally and quickly. 
It is completely oven-safe
The cookware set is very easy to clean.
Many ZWILLING Spirit ceramic cookware buyers are pleased with their purchase. This set's tri-ply structure provides for faster and more even heat transfer. Unfortunately, tri-ply ceramic cookware is not available from all high-quality cookware manufacturers. 
Aside from all its advantages, the price of this 10-piece set is likely to put you off. For individuals who use such cookware sets on a regular basis, the set is a little pricey.
2. Zwilling Motion Non-stick Hard-Anodized 10-Piece Cookware Set
Features:
It consists of a 5-piece cookware set (Including cooking pots of all sizes)
It has an 8/10 stainless steel construction that is scratch-resistant
The heat is distributed evenly while cooking in the cookware
The handling of the pans is extremely easy.
The ZWILLING Motion Non-Stick Hard Anodized 10 Piece Cookware Set is a good option for individuals seeking for an affordable aluminium cookware set with a non-stick coating.
It is actually non-stick, with metal utensils gliding effortlessly across the pan's surface. It may be used on both medium and high heat settings as well.
However, during cooking, the pot handles become very hot. Furthermore, the set is not dishwasher safe.
3. Zwilling Passion Stainless Steel Cookware Set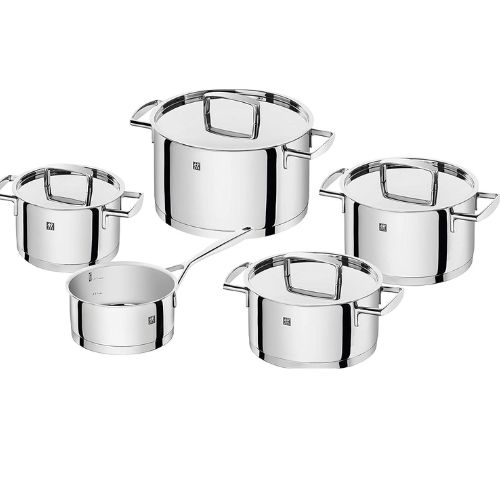 Features:
It consists of a 5-piece cookware set (Including cooking pots of all sizes)
It has an 8/10 stainless steel construction that is scratch-resistant
The heat is distributed evenly while cooking in the cookware
The handling of the pans is extremely easy.
Because metal is chemically inert, it will never modify the flavour or aroma of your food, and it will require little maintenance over time.
The stainless-steel lids of the ZWILLING Passion cookware allow you to bake with your pan lids on, which is convenient.
Meanwhile, the precision of the food must be observed without disturbing the cooking process; unfortunately, this is not possible because the lids are not made of glass.
4. Zwilling Spirit Stainless Steel Cookware Set, 7pc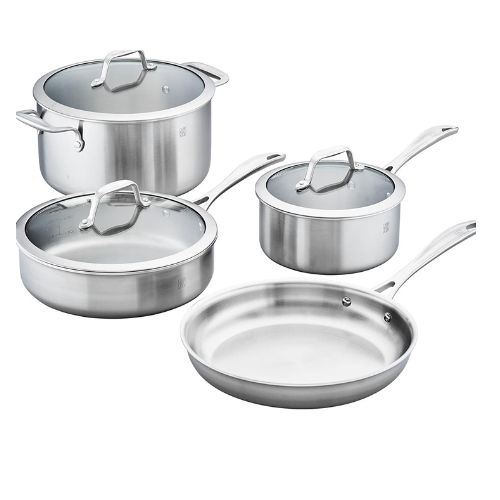 Features:
The set includes 7- pieces (including almost all types of cooking pans and pots)
The pans have stay-cool handles for easy-handling
Each piece has a glass-lid for easy cooking process
It also has a 3-ply aluminium construction for each pan.
We recommend the ZWILLING Spirit Stainless Steel Cookware Set. This is the only cookware that can stand up to its incredible toughness and durability. The metal centre guarantees fast, even heating.
On the downside, we learned from customer reviews that the rivets on the handles made them difficult to clean.
5. Zwilling Spirit Stainless Steel Cookware Set, 10pc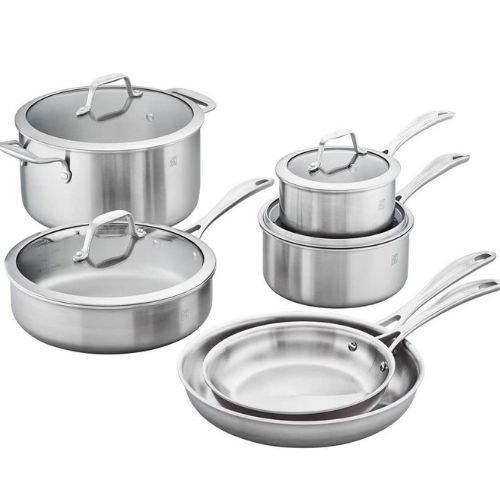 Features:
The set includes 10 pieces (consisting of all essential pans and pots)
It is oven-safe
It is safe to wash in the dishwasher
This set also has stay-cool handles for an accessible grip and handling.
We noted that the ZWILLING Spirit performed particularly well when searing steaks and reducing sauces. Moreover, it has numerous convenient characteristics, such as handles that remain cold to the touch even when the pans are hot from the burner. 
Also, this set is not only oven-safe but also dishwasher-safe, so washing it is a breeze as well.
Customers also noted problems, such as uneven heating when used with electric ovens and external staining while in use.
Also Read:
CONCLUSION
All in all, we highly recommend these products as ZWILLING J.A. Henckels' extraordinary quality is a major factor in the brand's widespread acclaim. ZWILLING cookware is on par with the company's other well-known kitchen tools in terms of quality, performance, and product breakthroughs. 
All the Cookware such as frying pans, skillets, saucepans, stockpots, and sauté pans can be found in their online collection and are reviewed to be very likable by customers worldwide. 
In addition to this, you can upgrade your kitchen from your present set of pans by purchasing an entirely new set from ZWILLING, or you can supplement your existing collection with a single pan.