There are multiple advantages when we replace the béchamel in the kitchen with less caloric or tastier variants. This sauce is not super light! First of all, it can cause problems for those who suffer from high cholesterol. In addition, the caloric intake is not among the lowest due to the presence of butter, which contains many saturated and unsaturated fats.
Not to mention the fact that our society has more and more people choosing to eat vegan in order to live with respect for all animal species. Vegans must eliminate milk and dairy products from their diet.
Béchamel can also be a problem if we invite a guest with particular intolerances to our home, or even worse if a member of our family suffers from an allergy. Do not forget those who do not like the taste of this sauce.
Therefore, although it is difficult to see in the homes of Italians a lasagna without a delicious layer of béchamel sauce to cover it, it has become necessary to reinvent the classic recipes by using ricotta cheese, cream, or other ingredients. A little curiosity about this food is that béchamel actually has French origins, and not Italian as one might think. That said, let's proceed with the tips.
5 Substitutes to replace béchamel in recipes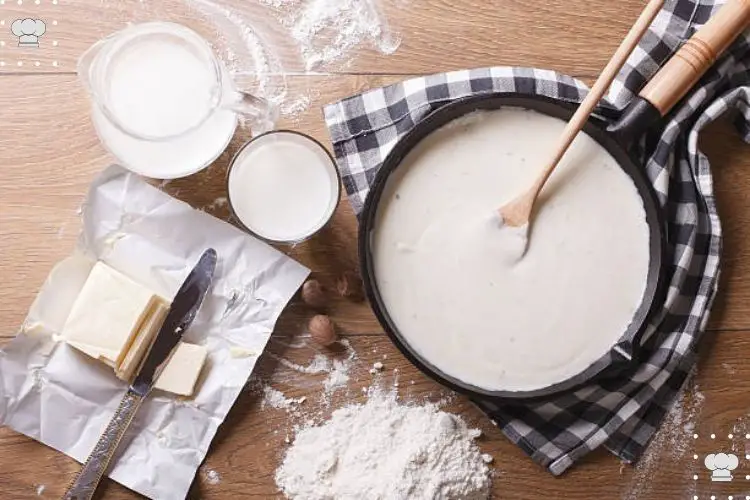 Whatever your reason for substituting béchamel, we recommend 5 mouth-watering alternatives with which you can impress your friends and family!
How to replace béchamel with ricotta cheese
If what makes you want to use béchamel sauce is related to the taste of the sauce and not to various intolerances, we can use ricotta cheese. The advice is to emulsify the ricotta a little bit of milk in order to increase its softness and make the mixture equally velvety. The result is a cream more delicate to the palate but equally tasty.
How to replace béchamel in baked pasta
The solution illustrated above with ricotta cheese works best in the preparation of baked pasta, lasagna. The difficulty of preparation is very low, but it requires a bit of patience: in fact, it takes 10 minutes to prepare everything and 40 minutes to bake. The ingredients are indicated for 4 servings.
How to replace béchamel with cream
An excellent solution is to make use of cream. Cream, although it has a more neutral flavor than bechamel, binds the flavors just as effectively, and is equally soft and velvety. We can also use this solution in savory pies or crepes.
How to replace bechamel with yogurt
A piece of information that not everyone knows is the presence on the net of recipes in which the sauce par excellence for lasagna and baked pasta is replaced by yogurt. It may seem strange to you that the acidic flavor of yogurt can emulate the delicate one of béchamel, but this version is much lighter. If you want to stay in shape, follow the simple steps here, which will outline a light, super-fast, butter-free, yogurt alternative.
How to replace béchamel with rice milk
A variant is suitable for those who do not eat dairy products, whether due to intolerances or life choice, is the vegan and gluten-free béchamel. Follow this vegan and gluten-free alternative even if you're not crazy about the taste of rice milk because in this case, it acquires a completely different texture and taste note. The trick in the recipe I'm about to recommend is to use olive oil and flavor it with nutmeg. You can combine the need to avoid dairy products with the need to avoid gluten, replacing the classic flour with rice flour.