I know a lot of people may be asking to know what tarragon is, and its alignment in the kitchen. Sit tight, and take a deep breath as we bring to you the wonders of tarragon in the kitchen. In this article, you will get to know that tarragon is that strong aromatic flavor that your next-door neighbor uses every day in the kitchen to wake the neighborhood. Funny right? Now, let's go.
Tarragon is a perennial plant of the daisy family, with aromatic leaves best used to flavor and season delicate dishes. For clarification, a perennial plant is simply known as a plant that lives for several years.
Tarragon is derived from the Latin dracunculus, 'a little dragon'. It has ties to the French Herbe au Dragon. Its association with the dragon comes from the serpentine shape of the herb's roots, which is believed to cure stings of venomous beasts. Tarragon which is also known as estragon is a plant that is native to the colder regions of Central Asia and Siberia, spreading to Arabia and Europe.
From the tarragon definition, we can see the alignment of the tarragon in the kitchen. When we talk of an overwhelming aroma, we talk of tarragon. It brings out a strong flavor in delicacies, as tarragon leaves blend well with dishes. It can be used in cooking food, it can be used in vegetable salad, it can be used in chicken, eggs, cheese, etc. Now, if you are ready to try something different in your kitchen, let's give the below-listed food a try, I know you will love them.
Food Recipes That Pair Well With Tarragon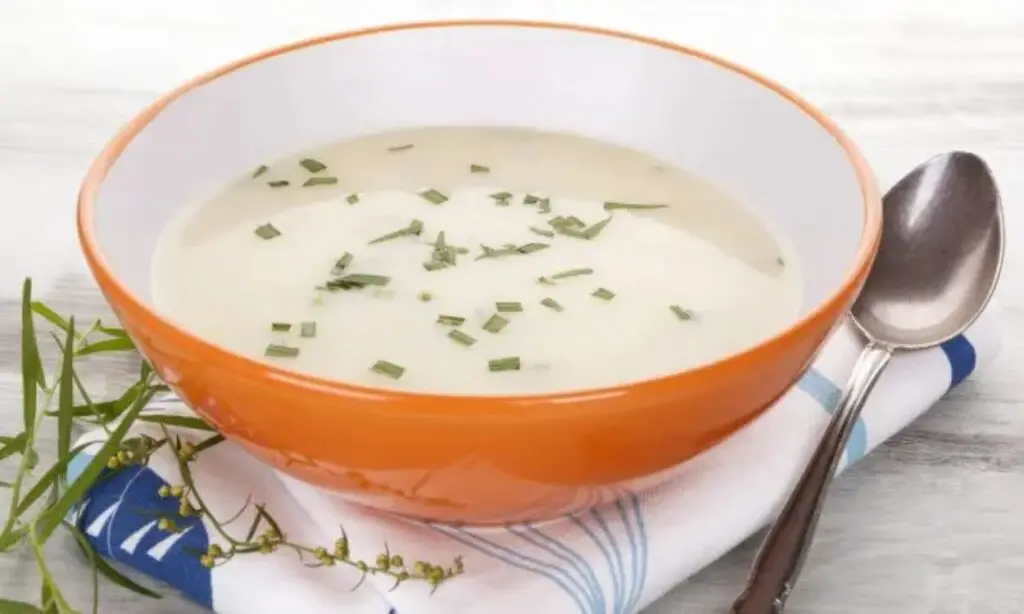 Leek Potato and Tarragon Soup:- This is a superfood rich in vitamins, minerals, and antioxidants. The soup is fit for any time of the day.
The ingredients needed for the preparation of this food are:- Sliced leeks, sliced potatoes, chopped fresh tarragon, butter, yogurt, water, cream, and seasonings.
Cook the sliced leeks and sliced potatoes first with butter and water, then stir in with tarragon, cream, yogurt, and seasonings. Get ready to enjoy this delicious food!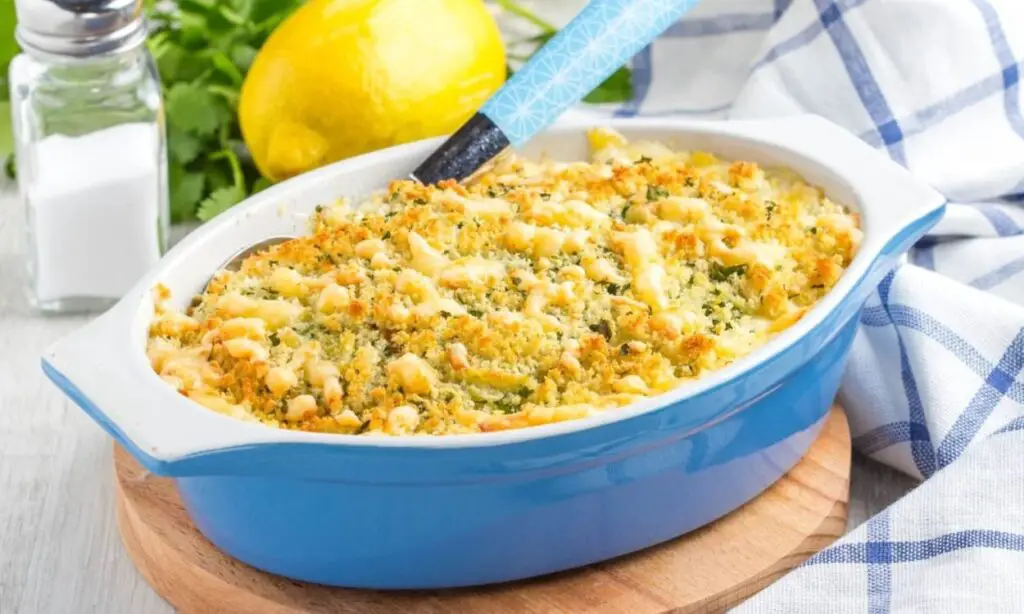 Creamy Tarragon Chicken And Potato Bake:– This creamy tarragon chicken bake with fluffy mash is ideal for a family supper. You can speed up the preparation by using ready-made mash.
Ingredients needed are 60g unsalted butter, 6 skinless boneless chicken thighs(cut into bite size pieces), 80 gs moked pancetta(cut into small pieces), 2 large onions slice, 40g plain flour, 500ml chicken stock, 3 tablespoons finely chopped tarragon, 2-3 tablespoons wholegrain mustard, tablespoons double cream.
Step one: Melt 20 kg of the butter in a flameproof casserole dish over medium heat. Season the chicken and add pancetta to the dish. Fry for 5 minutes until the pancetta is crispy and the chicken is thoroughly cooked until it turns brown. Set aside in a bowl.
Step two: Lower the heat, add the heat, add the remaining butter and when it starts foaming, add the onions. Cook for 10 minutes until it gets soft, then stir the flour and cook for another 2 minutes. Remove from the heat and slowly whisk in the kitchen stock. Return to the hob, bring to a boil and cook for 5 minutes. Stir through the tarragon, mustard, and cream, followed by the chicken and pancetta, and cook for another 5 minutes until the sauce is thickened.
Step three: Heat the grill to high, heat the mashed potato, then spoon on top of the chicken filling in the casserole dish. Smooth and swirl the potato over the right to the edges, drizzle with a little olive oil and put under the grill for 8-10 minutes, or until the top is golden and bubbling. Food is ready!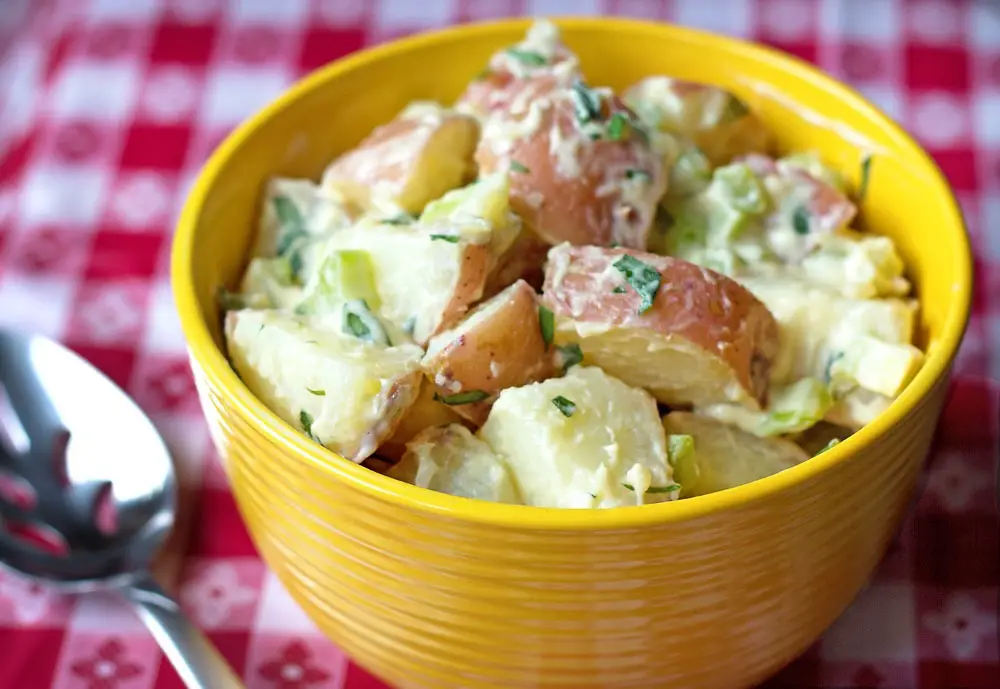 Roast Potato Tarragon Salad:- This is a perfect side dish for a pod luck meal, covered dish gathering, outdoor fall get together. It is best made with finer younger tarragon leaves. You can use groundnut oil if you like a milder taste dressing.
Ingredients needed are 750g potatoes, 2 tablespoons olive oil, 3 egg yolks, 1 tablespoon white- vine vinegar, olive oil 150ml(for the mayonnaise), 8 cornichons, tarragon, 1 tablespoon dijon mustard.
Step one; Set the oven at 200c/gas mark 6. Scrub the potatoes under running water to remove any flaky skin, then boil in lightly salted water for about 10-15 minutes until tender. Drain, slice each potato in half and put them into a roasting tin with the 2 tablespoons of olive oil, some salt, and black pepper and roast for 30 minutes until the cut sides are golden and sticky.
Step two; While the potatoes roast, make the mayonnaise. Put the egg yolks and vinegar in a bowl and slowly whisk the olive oil into it. At first drop by drop, then in a slow stream until thick. Season carefully with salt. Cut the cornichons into thick chunks and add them to the mayonnaise with tarragon. Check seasonings, adding salt, pepper and maybe a little lemon or vinegar.
Step three; Remove the potatoes from the oven and while they are warm, toss them in the mayonnaise and serve. You can serve while cold or hot. Food is ready!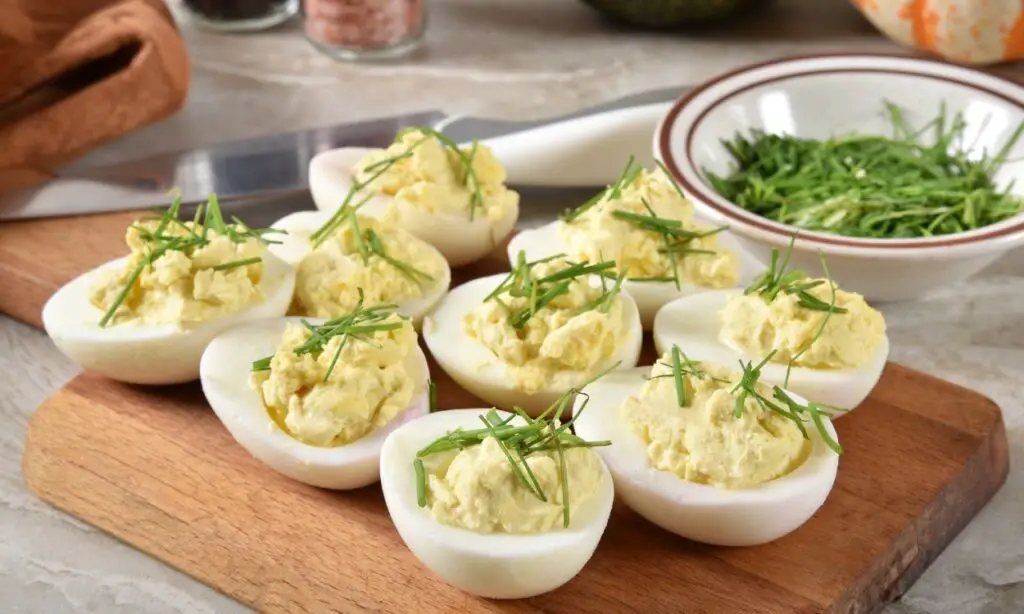 Tarragon Mustard Deviled Eggs:– This rich and tasty dish is great for both holiday gatherings and daily meals.
Ingredients needed are eggs, finely chopped fresh tarragon(plus a bit more for garnish), white wine vinegar, mayo, dijon mustard.
Step one; While your hard-boiled eggs are cooling, blend together the minced tarragon, white wine vinegar, mayo, and dijon mustard.
Step two: Peel the eggs and cut in half lengthwise. Remove yolks and mash them finely with a fork.
Step three: Mix tarragon, mustard, mayo mixture with the egg yolks and combine well.
Step four: Put the egg mixture into a sturdy plastic bag, and then cut off the tip to make a piping bag. Then you can squeeze out the yolk mixture into the egg whites. Easier and less messy!
Step five: Fill the egg, and garnish the eggs with some chopped tarragons and serve. Your delicious dish is ready!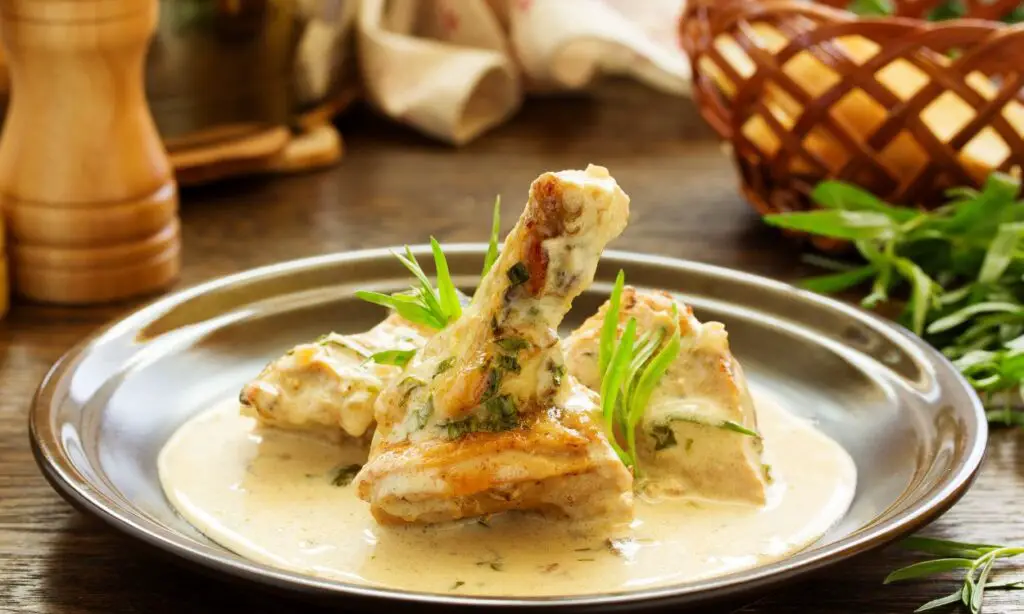 French Chicken Tarragon:- This classic French chicken tarragon recipe is made with seared and braised boneless skinless chicken thighs simmered in white wine, chicken broth and fresh tarragon.
Ingredients needed are 6 large chicken thighs, salt, pepper, 2 tablespoons unsalted butter, 2 shallots(finely diced), 2 garlic cloves(grated or minced), 2 tablespoons chopped tarragon(plus whole leaves fir garnish), 1 cup blond chicken broth, ½ cup of dry white wine, ½ cup of crème fraiche, ½ tablespoon grated lemon zest.
Step one: Season the chicken generously with salt and pepper for 30 minutes to 1 hour at room temperature.
Step two: Heat the oven to 400°F. Put an enamel cast-iron dutch oven over medium heat. Add the butter and shallots and cook, stirring until softened and lightly browned about 5 minutes. Add the garlic and chopped tarragon and cook for 1 minute( be careful not to let the garlic brown). Arrange the chicken thighs in the pot in one layer, add the broth and wine, and bring to a simmer.
Step three: Put the lid on and place the pot on the middle shelf of the oven. Bake for about 15 minutes, then lower the heat to about 350°F and continue baking for 45 minutes, or until the thighs are tender. Put the thighs on a platter, cover loosely, and keep warm.
Step four: Strain the pan twice through a fine sieve into a saucepan and spoon off any rising fat. Place the pan over medium-high heat, add the crème Fraiche and lemon zest, and simmer until the sauce is slightly thickened for about 5 minutes. Taste and adjust the seasonings.
Step five: Spoon the sauce over the chicken, garnish with tarragon leaves, and serve. Enjoy your dish!
Although tarragon is best known for its use in French cooking, tarragon is also used all over the world in a variety of traditional dishes.
In Hungary, tarragon is used in cooking chicken soup.
In Slovenia, tarragon is used in a sweet nut roll cake known as potica.
In Persian Cuisine, tarragon is part of the vegetables and herbs that are served with meals.
In Georgia, Ukraine, and Russia, the herb is consumed via a popular bright green carbonated drink called "Tarkhuna" which is made with sweet tarragon concentrate.
In Africa(Nigeria), tarragon is used in some traditional food, especially ekpang nkukwuo and afia efere(White soup pounded yam).
Vegetables That Pair Well With Tarragon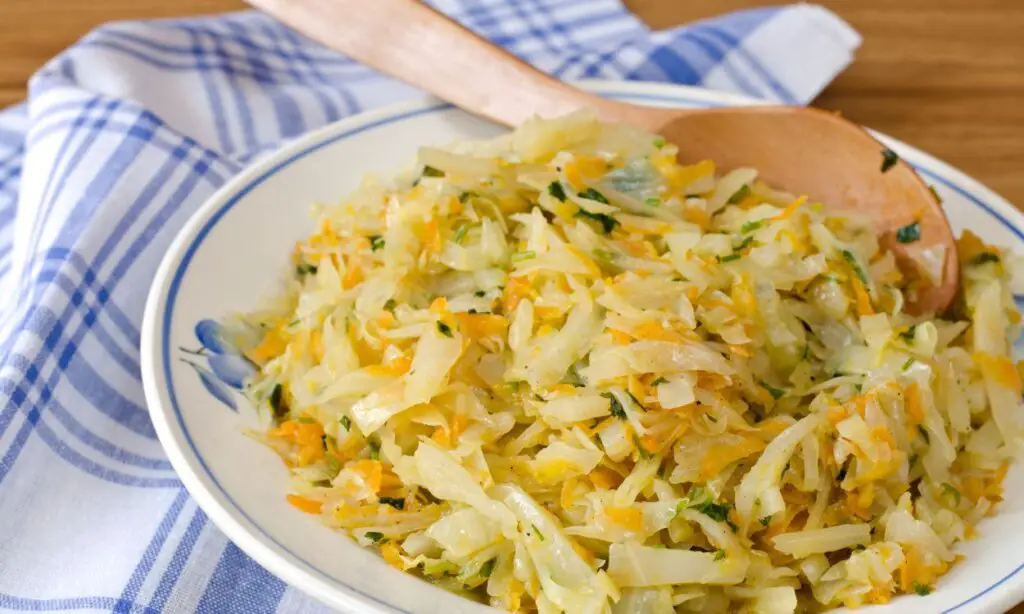 Roast Cabbage With Tarragon And Pecorino Cheese: ingredients needed are 60ml olive oil(4 tablespoon), 1 tablespoon lemon zest, 1 tablespoon lemon juice, 1 clove of garlic, 1 spring cabbage (cut length wise into 8ths), 5g tarragon leaves, 20g pecorino cheese, salt and pepper.
Step one: Preheat the oven to 220c.
Step two: In a small bowl, combine the olive oil, lemon zest, garlic, pinch of salt, and a grate of black pepper. Put 1 tablespoon of this mixture in a separate bowl.
Step three: Put the cabbage in a large bowl, season with a pinch of salt, and pour the oil mixture over the cabbages, tossing well to coat.
Step four: Arrange the cabbage in a roasting dish, and roast for 15 minutes, until the edges get crispy. Remove from the oven to set aside and cool a little.
Step five: Add the lemon juice to the reserve tablespoon of oil, add tarragon.
Step six: Put the cabbage on a platter, drizzle over the oil, then add shavings of pecorino cheese and a good grating of black pepper. Food is ready!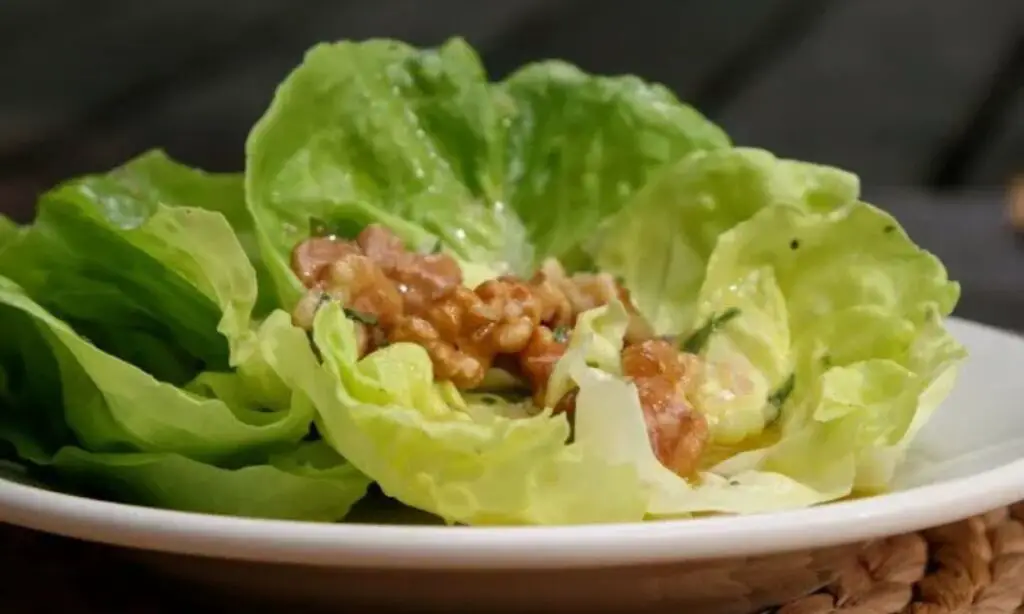 Bibb Lettuce With Tarragon Vinaigrette And Toasted Walnuts:- This vegetable salad works well with big holiday meals, as well as casual, steak/ fritas suppers.
Ingredients needed are 1 small shallot(peeled and minced), 1 teaspoon dijon mustard, 1 lemon(juice only), ¼ cup extra virgin olive oil, 2 teaspoon of honey, 1 teaspoon of chopped fresh tarragon, kosher salt and freshly ground black pepper, 1 head bibb lettuce ,lightly toasted walnuts.
Step one: Combine shallot, mustard, and lemon juice in a large salad bowl. Slowly drizzle in oil as you constantly whisk to emulsify the dressing. Once the oil has been incorporated, stir in honey and fold in the 1 tablespoon chopped tarragon, season with salt, and pepper.
Step two: Wash the lettuce and separate the leaves. Smear the dressing up around the insides of the salad bowl and toss the leaves in the bowl. Fold in the 1 tablespoon tarragon leaves and serve. Your delicious food is ready!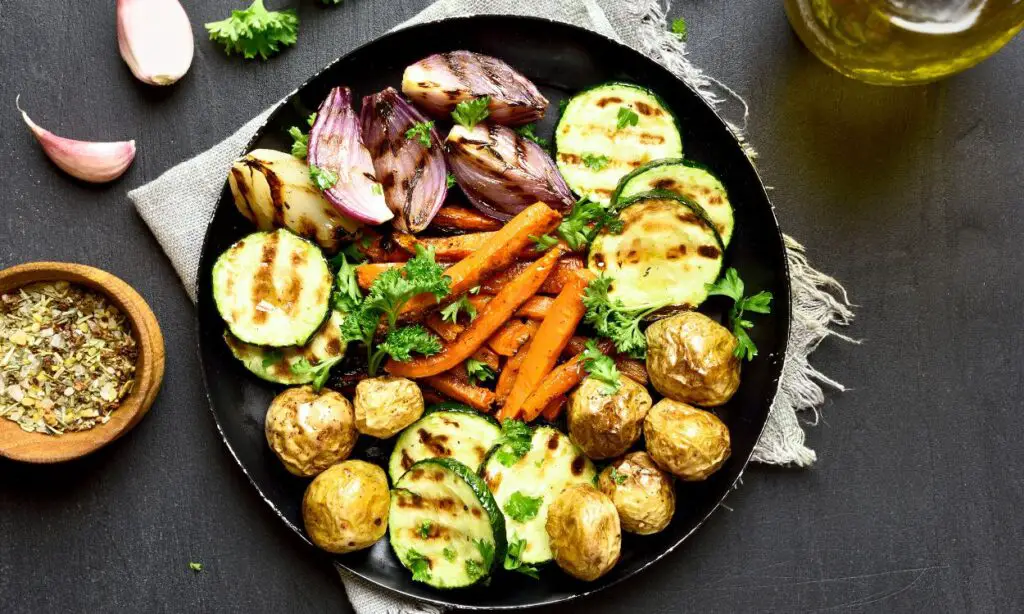 Tarragon Roasted Summer Vegetables:- This dish is a great go-to side dish. They go with grilled fish or chicken, veggie burgers, etc.
Ingredients needed are 2 cups grape tomatoes, 2 cups green beans, 2 ears corn, 1 lemon, 3 tablespoon tarragon, thyme, 1 zucchini, 1 black pepper, 1 sea salt, 3 tablespoon olive oil, 1 bell pepper(seeds and top removed, sliced into strips).
Step one: Don't skip on the oil but also don't add too much. Coat the veggies in enough oil so that they crisp up and don't dry out.
Step two: Don't overcrowd the pan. Make sure the veggies don't overlap to promote even cooking
Step three: Flip the veggies halfway through the cooking time. Using a spatwa, try to flip the majority of the veggies over in the middle of their cooking time.
Step four: Be sure to add a squeeze of fresh lemon juice before enjoying them, as tbringsings out their flavor. Enjoy!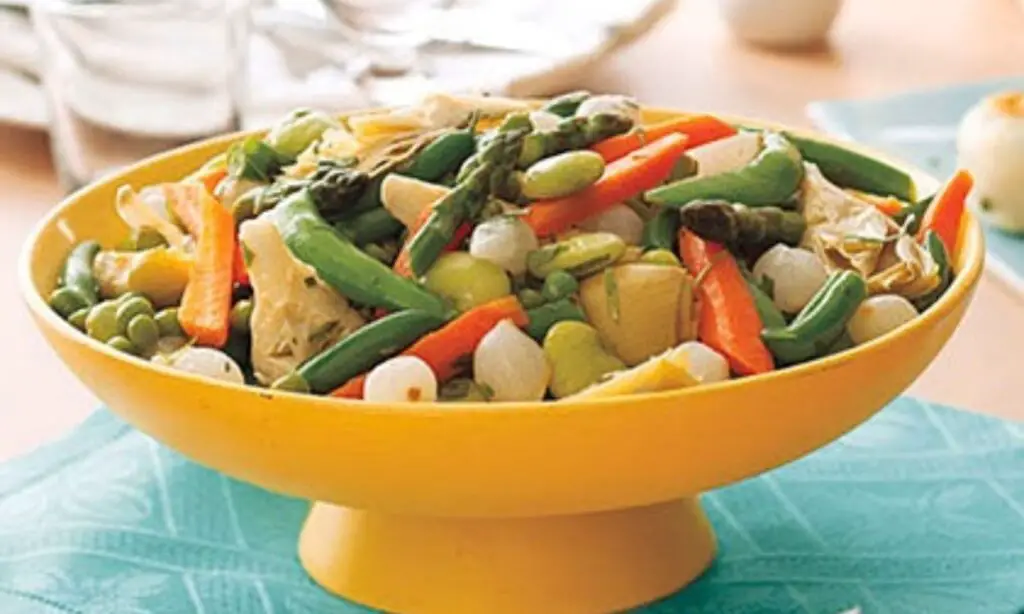 Spring Vegetable With Lemon And Tarragon:- This offers an elegant and healthy side dish to your spring table, chock-full of veggies, spring vegetables with lemon, and tarragon.
Ingredients needed are ½ pound small carrots, salt, pepper, 1 cup frozen pearl onions, ½ pound asparagus(trimmed, cut into 2 inch pieces), 4 tablespoon unsalted butter, 1 cup frozen petite(thawed), 1 14-03, 2 tablespoons chopped fresh tarragon, and 2 tablespoons lemon juice.
Step one: Line a large, rimmed baking sheet with paper towels. Put carrots in a large saucepan, cover with water and stir in 1 tablespoon salt. Bring to a boil over high heat. Reduce heat to medium-low and simmer uncovered until carrots are just tender, 6 to 7 minutes. Fill a large bowl with ice water. Using a slotted spoon, remove carrots to bowl. Add onions to pan and simmer for 4 minutes. Adjust the heat as necessary to maintain a simmer.
Step two: Transfer cooled carrots from ice water to prepared baking sheet. Remove cooked onions to ice water; add ice to bowl as necessary. Continue to cook vegetables as follows, transferring cooked vegetables to ice water and draining on paper towels when cold: asparagus, 2 to 4 minutes; green beans, 4 to 5 minutes; sugar snap peas and baby lima beans, 2 minutes. (Vegetables can be cooked up to 5 hours ahead; cover and refrigerate. Bring to room temperature before continuing with recipe.)
Step three: Melt butter in a large skillet over medium heat. Add vegetables, including peas and artichoke hearts. Stir gently until heated through, about 5 minutes. Stir in tarragon and lemon juice and season with salt and pepper. Serve hot.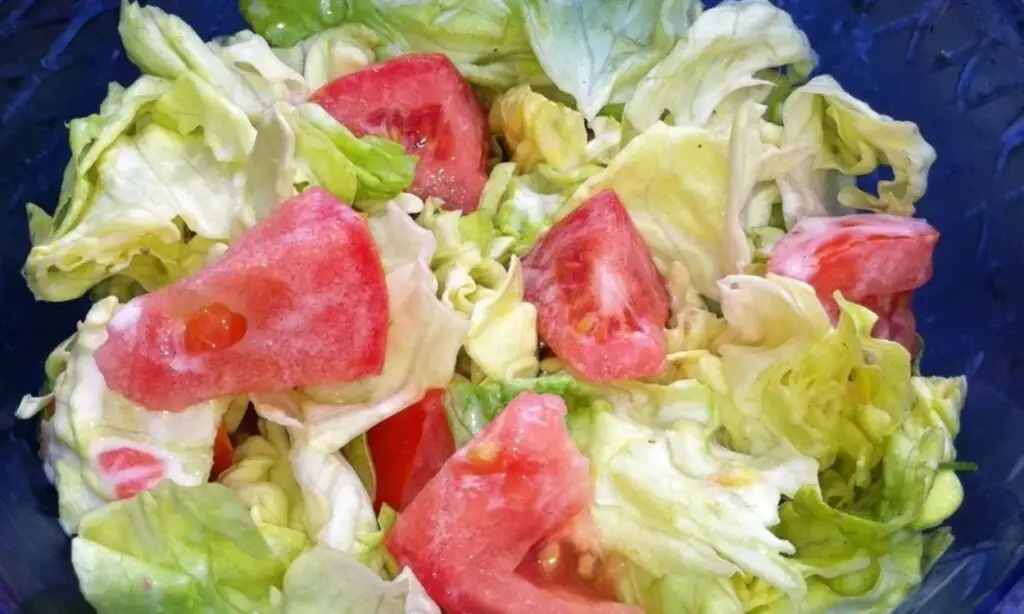 Lettuce And Tomato Salad:- This is another delicious vegetable that pairs well with tarragon.
Ingredients needed are 1 large tomato, 2 handful butter lettuce, 1 tablespoon lemon juice, 4 grindings of sea salt, 3 grindings of pepper, ½ teaspoon of sugar.
Step one: Tear up the lettuce and place in a serving bowl. Cut the tomato in half lengthwise, and then cut the halves using a "W" cut to create about 1-inch wedges. Add to the bowl.
Step two: Mix together the mayo, lemon juice, salt and pepper and sugar. Add to the lettuce and tomato, and blend softly but thoroughly. Serve with corn on the cob, simple shellfish dishes, and other summery food. Enjoy your dish!
Herbs And Spices That Pair Well With Tarragon
Chives:- Chives blend well with tarragon because the onion taste of chives offsets the tarragon's mildly sweet taste. A compound butter of chives and tarragon works well. Let's take a look at this chive's recipe.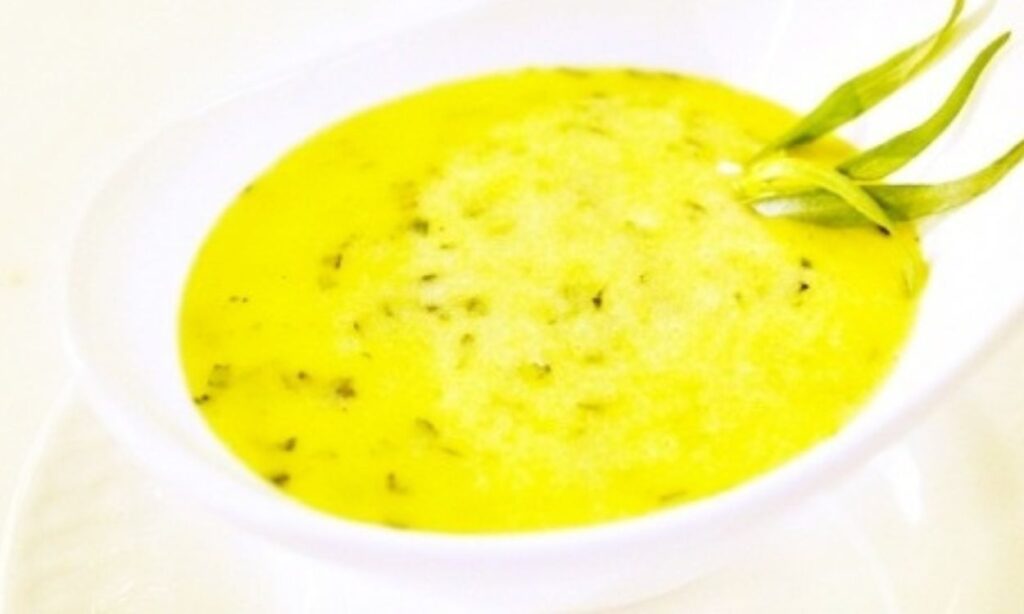 Tarragon Chive Aioli: ingredients needed are tarragon, chives, eggs, extra virgin olive oil, and lemon juice.
Preparations: Step one is getting your herbs cleaned and prepared before cutting. Peel and mince garlic before pureeing the garlic with your chef's knife.
Step two: Rinse tarragon and chives, then dry them with a paper towel. Once they are dry, chop them finely and set them aside. Get egg yokes not cooked ones to make this tarragon chive aioli.
Step three: Add the pureed garlic, lemon juice, and egg yokes to your blender or mixing bowl. Blend or whisk the mixture until it becomes frothy. This should take about 30 seconds.
Step four: This is a critical part. Drizzle in the extra virgin olive oil carefully. As the emulsion takes hold, you can pick up the pace with the extra virgin olive oil. Once you reach the emulsion phase, gently stir in the chopped tarragon and chives.
Finally, finish the tarragon chive aioli with white pepper and kosher salt to taste. Enjoy your dish!
Parsley And Chevril:- All varieties of parsley and chervil blend well with tarragon. Parsley's cool and crisp flavor makes an exciting counterpoint to tarragon's warm taste. Chervil, a relative of parsley has anise-like overtones that blend with those in tarragon. Let's take a look at this parsley's recipe.
Roast Pork.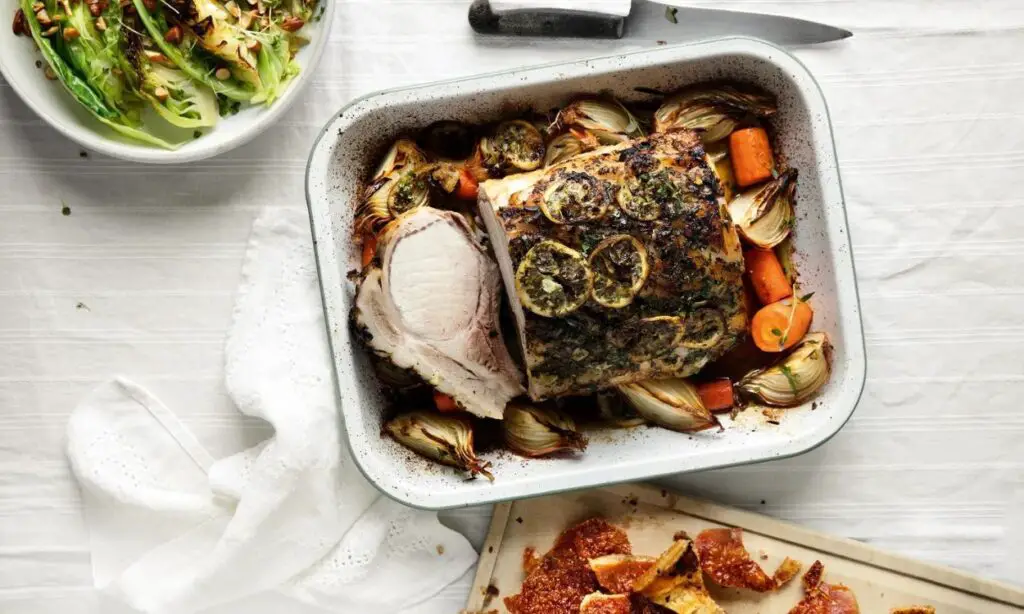 Roast Pork: Ingredients needed are 2 large sprigs of flat- leaf parsley, 5 sprigs of tarragon, 5 onions, 350g carrots, 5 sprigs of thyme, 5 bay leaves, finely lemon, 5 garlic cloves(finally chopped), and 2kg pork sirloin.
Step one: Heat the oven to 200°c/fan oven, 180°c/mark 6. Gently rinse and drain the herbs. Grate the zest of the lemon and cut the fruit into thin slices. In a bowl, combine the zest and herbs, then season with salt and freshly ground pepper.
Step two: Remove the pork rind in one piece from the roast's top, ensuring the fat underneath stays attached. With a thin sharp knife, in 1cm strips, cut halfway through the fat under the skin. Gently spread the herbs, garlic and lemon zest on top of the meat. Then spread the lemon slices on top and sprinkle with salt and plenty of pepper.
Step three: Put the piece of rind back on top. Tie all the way along the joint with a long piece of kitchen string, then place it in a roasting tin and roast for 15 minutes. Rinse the onions, peel the carrots and then cut them into quarters.
Step four: After 15 minutes, remove the pork from the oven, add onions and 300ml warm water. Return the tin to the oven and roast for 1 more hour.
Step five: Add carrots to the tin, roast for further 15-20 minutes, or until the pork is no longer pink.
Step six: Remove the pork from the oven and rest for 15 minutes. Then remove the string and carve into slices, making sure there is a piece of crisp rind with every portion.
Finally, served with the onions(skin on), carrots and the juices from the meat. Enjoy your delicious dish!
Mustard Seed:- Making a spice blend of tarragon and mustard can liven up anything from tuna to beef pungent. Mustard and sweet tarragon are commonly prepackaged flavors. Let's take a look at this Mustard seeds' recipe.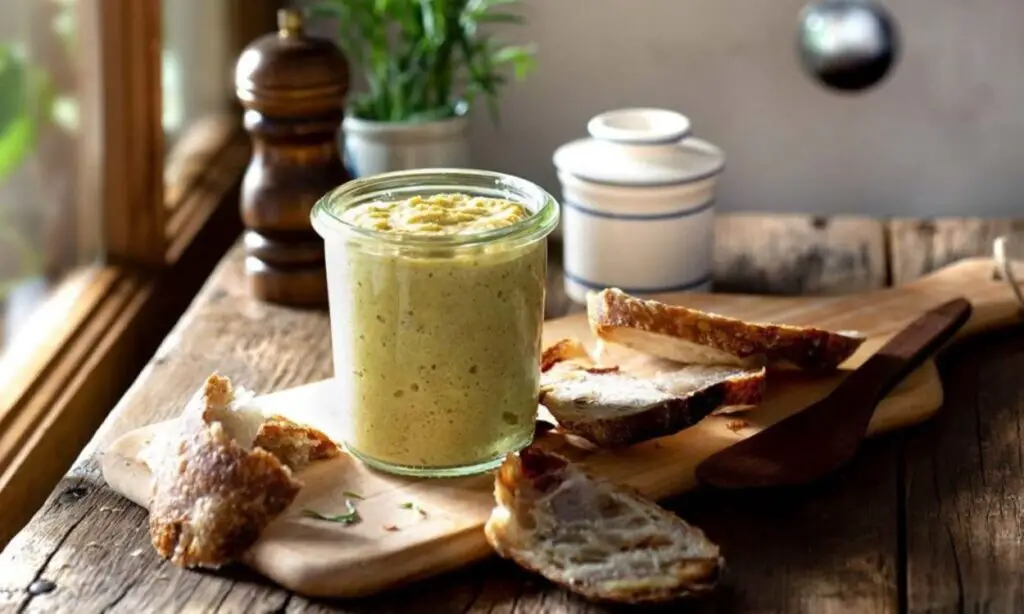 Homemade Tarragon Mustard With Apple Cider Vinegar: Ingredients needed are yellow mustard seeds, acidic liquid such as vinegar or orange juice, salt, water, tarragon as seasonings.
Step one: Add mustard seeds, orange juice, vinegar and , and water to a glass liquid measuring cup or a glass bowl. Cover with plastic wrap and let it sit at room temperature for 8 hours.
Step two: Transfer the mixture to a food processor and add salt and dried tarragon.
Step three: Process until the mustard becomes smooth.
Step four: Fill the mustard into a glass jar with a lid. Store it in the fridge for 2 days before starting to use. Please note that mustard gets bitter, but all the bitterness disappears within 2 days of storage. Now, get ready to enjoy your dish!
Anise:- Anise and tarragon contain the compound estragon. This photochemical give these herbs their licorice flavor. Let's take a look at this anise's recipe.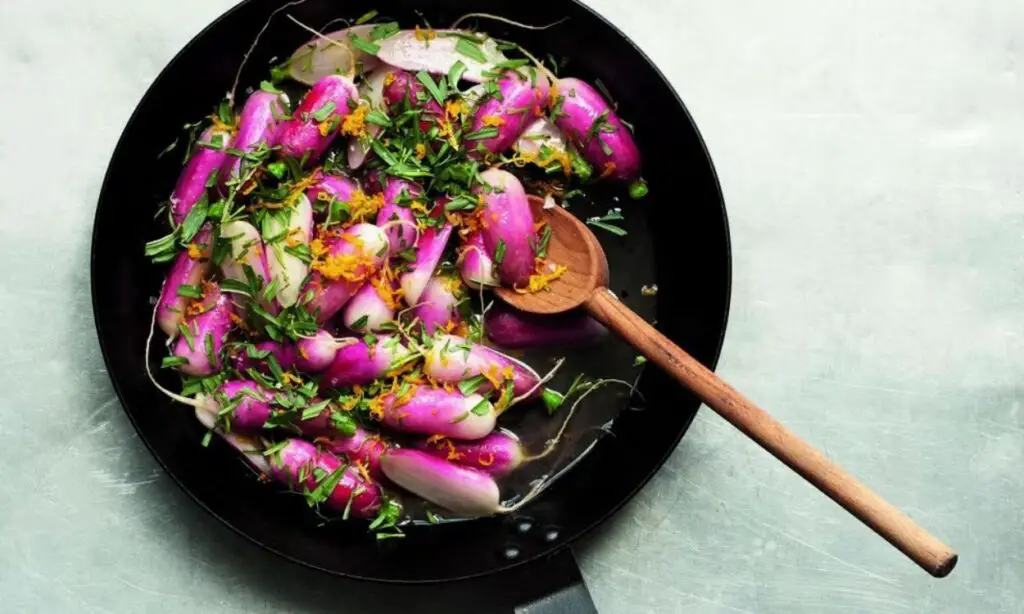 Warm Radishes With Anise And Tarragon: Ingredients needed are 300g French breakfast radishes(leaves removed), 20g butter, 4 tablespoon penod, 8 leaves of tarragon(chopped), 0.5 orange, 1 pinch of sea salt.
Step one: (Cooking time takes about 15 minutes). Wash the radishes thoroughly. Cut most of them in half length ways, leaving only the small ones whole.
Step two: Put the butter in a medium frying pan over a medium- high heat. When the butter melts and is nearly frothing, add the penod, let it reduce for 10-20 seconds, then whisk in 1 tablespoon of water.
Step three: Add the hard-boiled and cook for 3-4 minutes, turning them frequently in the butter liquid.
Finally, remove from the heat, add tarragon, stir and immediately transfer to a serving bowl. Season with salt and the orange zest and pour any cooking juices over the top. Enjoy your delicious food!
Coriander:- When combining coriander with tarragon, it adds an element of sweet anise. Coriander's warm flavor blends well with tarragon in poultry stews and curry dishes. Let's take a look at this coriander's recipe.
Tarragon – Coriander Egg Salad (with Gherkins on pumpernickel): ingredients needed are 10 hard boiled eggs(peeled), 6 tablespoon mayonnaise, 1 tablespoon small bunch fresh tarragon(leaves finely chopped), ½ teaspoon salt, and 1 teaspoon large shallot(minced). 1 teaspoon package grainy dijon mustard, 1 teaspoon package party pumpernickel, 10 teaspoon gherkins(thinly sliced lengthwise).
Step one: In a large mixing bowl, use a fork to smash the hard-boiled eggs.
Step two: Add the ingredients(except bread and gherkins) and stir together.
Step three: Put a bunch of bread slices on a baking sheet and toast in an oven preheated to 350 degrees for about 5 minutes.
Step four: Put a spoonful of egg salad in the middle of each slice of bread and top with a couple slices of gherkins and a strand or two of lemon zest. Your dish is ready!
CONCLUSION
Hope we can now see the wonders of tarragon and why it is a must necessity in the kitchen. You know what? Next time be the first to wake your neighbors up with this aromatic flavor. Also, let me give you another hint, are you aware that tarragon is not only needed in the kitchen? It is also a medicinal herb for treatments(that is a story for another day). The use of tarragon in cooking is countless and its health benefit is quite impressive.
 If you find this article interesting and informative, please share it with your friends and loved ones.