Cookware is an essential part of our kitchen, it doesn't only make a kitchen complete, but also it helps to cook a great meal. You must be thinking, is it true? It is. Better cookware takes your cooking experience to the next level. In a proper kitchen, your cooking set has to be safe and efficient. Low-quality cooking sets cause accidents, affects food quality and waste time.
Then what could be the solution to this problem? The answer is simple, using kitchen-grade safe cookware. There are several cookware brands in the market currently; most of them offer products made with high-quality steel sheets and other non-sticky features. But only some of those cookware brands that have managed to maintain product quality are Home Hero Cookware Brand.
Home Hero Cookware Review
Home Hero cookware was launched to change the kitchen's typical cooking experiences and make your food a lot safer and healthier. The company's primary goal is to create a comfortable environment while cooking and make you feel at home no matter where you use their appliances. Home Hero founders believe that the best way to make your mealtimes better is by creating elegant design products, which also complement your choice and your kitchen. The Home Hero cookwares are made from top-quality materials and top-notch craftsmanship to increase your kitchen's work capacity. The brand offers all kinds of cookware you will ever need in your kitchen, from knives to utensil sets and multipurpose cooking set.
Home Hero Cookware Sets
The Home Hero cooking set is all-purpose cooking set to fill your needs at any time. This cooking set has all sorts of cookware; from baking to frying, you can do all kind of cooking if you have one of these. The Home Hero Brand has launched five variants of the cooking set according to different kitchen needs. Four of them are 23 pieces and one 13 piece cookware set.
EDITOR'S CHOICE
9.5
Home Hero Granite Cookware Set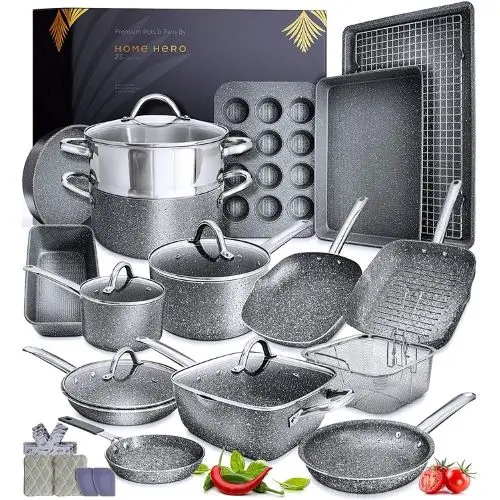 Everything you need in one 23pc set
Non-stick granite coating
High quality that lasts
PREMIUM PICK
9.8
Home Hero 23pc Copper Cookware Set
23-Piece Cookware Set
Designed with the user in mind
Non-stick materials
BUDGET PICK
8.5
Home Hero 13pc Copper Cookware Set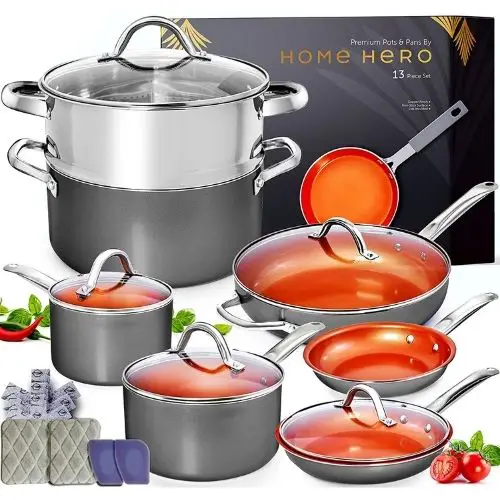 Premium quality materials
You can use these everywhere
Easier to clean and more durable
Home Hero Granite Cookware Set
Features:
Everything you need in one 23pc set
Non-stick granite coating
High quality that lasts
This dynamic granite cookware set comes with a fully nonstick feature that keeps your cooking hours hassle-free. You don't have to go through with the trouble while using utensils. The set also has some other fascinating features, such as a 100% safe non-sticky Teflon coating. Mostly cheap cookwares don't have a proper layer which mixes with the food and intoxicates it. It's better to be safer than sorry. That's why the Home Hero brand put thought and gave a world-class nonstick layer in all of their cookware. The granite cookware set comes with 23 piece items.
Home Hero 23pc Copper Cookware Set
Features:
23-Piece Cookware Set
Designed with the user in mind
Non-stick materials
For those looking for some sophisticated designs or commercial cookware, this is the best choice for you. The copper chef cookware is mainly used in the commercial kitchen by renowned chefs and customers with a refined cookware taste. The copper interior color increases your kitchen's elegant outlook. Alongside, the grey exterior paint also makes it more beautiful. This set is suitable for induction cooker, infrared furnace, gas and electric stoves. The Home Hero Premium series has delivered a better non-sticky coating in this set; it has a super ultra copper ceramic non-stick coating, it is far more non-sticky then the other cookware sets. If you have a busy kitchen and an affordable pocket, you should go for this set. The Copper Chef set is very efficient in the long run.
Home Hero 13pc Copper Cookware Set
Features:
Premium quality materials
You can use these everywhere
Easier to clean and more durable
The 13 piece copper set is the smaller version of the 23 piece copper chef set. The Cookware set has maintained its color and durable body. People who have a small kitchen can easily use this set. It's also easy to store in your small cabinets. This set has all the regular Home Hero cookwares' premium qualities, from deep frying to baking and gas stoves to electric stoves; you can use these everywhere. I believe the 13 piece set is perfect and long-lasting for bachelors or any normal usage. The high-quality material offers you durability and quick improvisation.
Home Hero 23pc Kitchen Cookware Sets (Black & White)
Features:
Premium quality materials
Suitable for all stove
Fast customer service
This cookware set is also similar to the granite set; it comes with the same 23 pieces of kitchen cookware. But this one has a different design in the exterior parts, and the ultra non-sticky design is also a lot lighter colour in this one. The Home Hero designers have given extra thought to this set. This set is a lot more casual than the granite set. It's less premium, but it still has the durable quality and a dynamic outlook on both sides. And price-wise, it's also efficient; for those of you who don't want to cross the 200$ budget on a cookware set, it's the best deal for you. If you are looking for regular use and not considering rough usage, you can have this beautiful set.
Home Hero 23pc Induction Cookware Set
Features:
Suitable for fast cooking
3 bonus pan protectors
Ergonomic handles
The Home Hero Induction Cookware Set is another variant of the premium cookware series. The cookware comes in a Home Hero red-black package. With the same 23 piece formation. This set has a plain black exterior color with a white border. It has beautiful metal handles on the lids and sides. The brand continued its strong metal body structure in this series. Home Hero always thinks about their customers while designing every set and its model. The cookware sets are very user-friendly and effective in the kitchen. You don't need any other appliances while cooking. They are also suitable for fast cooking; the large induction base allows us to get fast heat and fewer fumes in a short time. Price-wise this set is also the same as the other premium sets
Also Read:
Does home hero cookware need to be cured? If so, how often?
 After washing and drying, season it lightly by rubbing vegetable or canola oil (not olive oil) onto the non-stick surface.
 Heat the frying pan over medium heat on a burner for about 1-2 minutes. You can also put it in the oven at 300F for about 20 minutes (yes, our non-stick copperware is oven safe and can withstand temperatures up to 500F)
Once the oil cools and dries, wipe any excess oil from the pan with a paper towel, and you are good to go.
 Afterward, the surfaces require just a quick sponge to wash them.
 You can repeat this process every once in a while, especially if you decide to put the pans in the dishwasher
Final verdict, before buying any cookware, you should consider your need. If you are looking for the quality and looks, the 23 piece granite and the copper chef is your thing; if you don't care for the look, but you need the quality, then the 23 piece Black & white set and 13 piece copper chef is the best deal for you.
Home Hero offers product return and warranty policies with customer support. You can ask them anything about their product or any advice on amazon or their official website. The customer usually supports contacts within a day.
The Home Hero Brand has changed the cookware market for good; with quality products and dynamic design, the cooking experience will be more comfortable than one can ever imagine.
Disclaimer: Some of our stories include affiliate links. If you buy something through one of these links, we may earn an affiliate commission.
FAQ:
Are home hero pans dishwasher safe?
Concerning oven-safe temperatures, the home hero cookware is oven-safe and dishwasher safe, although we do not recommend having it in the dishwasher to prolong its lifespan.
Will metal utensils damage your home hero cookware?
For best performance, always use wooden or silicone or nylon spatulas/utensils.
Is the home hero ceramic material free of ptfe, pfoa, cadmium, and lead?
Yes, home hero ceramic cookware is non-toxic and free from carcinogens like PTFA, PFOA, cadmium or lead.
What is the warranty on home hero cookware?
Home hero cookware is currently offering a two-year warranty so you can enjoy your purchase for years to come.