Goodful cookware is a Buzzfeed brand that Epoca International manufactures. This brand is situated in the United States. Epoca International is the official manufacturer and distributor of its products. They offer home-based products, more especially cookware products.
They launched a few years ago, and the brand has grown quickly. They have great options to pick from, and their products are economical. They facilitate additional surprises on their products, such as splatter screens and bamboo spoons, as well as the measurement marks that make the customer feel valued.
Goodful Cookware Benefits
Products from Goodful cookware are entirely safe because they are made up of PFOA-free. They are absolutely strong for daily use, and the user can use them for a long time. They are made using robust materials such as stainless steel, carbon, aluminum, and many others. These products can also be used in the dishwasher, making them easy to clean. Products from this brand are very quality items that can be used on the oven or any other cooking strategies.
In addition to being eco-friendly, products from Goodful cookware can serve multiple purposes for daily use. Their premium non-stick coating offers you comfort as it is easy to handle and use. It is absolutely a good brand to pick, considering their models that revolve around customer satisfaction and wellness.
Best Goodful cookware products
If you plan to purchase the best product from Goodful cookware and don't know which one to buy, you should not worry. This is because we have made your decision easier and quicker by identifying the best Goodful products to choose from.
EDITOR'S CHOICE
9.2
Goodful Carbon Steel Wok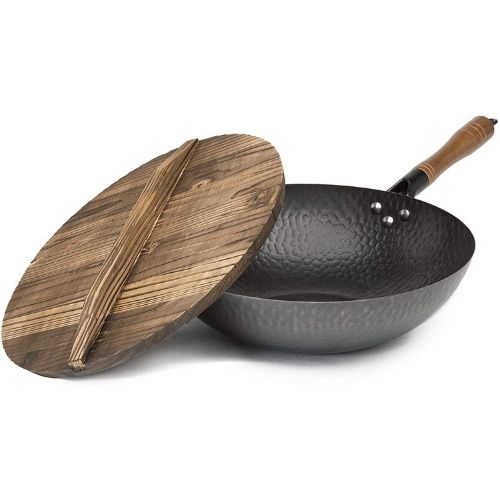 Resistive wooden lid
Sustainable voluminous pot
A strong combination of wooden and carbon steel material
PREMIUM PICK
9.5
Goodful Classic Stainless Steel 12-Piece Cookware Set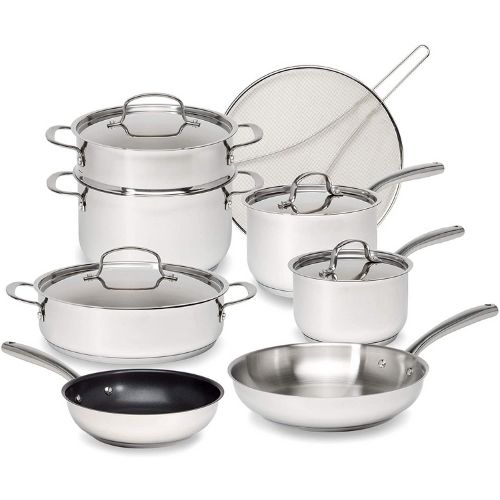 Features a smooth mesh splatter screen
Made of tri-ply based stainless steel material
It can be used in the microwave oven
BUDGET PICK
8.6
Goodful Aluminum Non-Stick Square Griddle Pan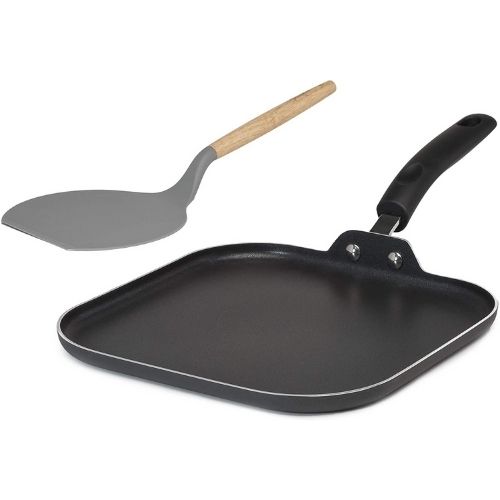 Non-stick mechanism
Made of strong and durable handles
Features a jumbo nylon pancake turner
Goodful 12 Piece Cookware Set
The set features a 10" fry pan, 8" fry pan, and a 2-quart saucepan with a tempered glass lid. The set also comes with 4 quarts deep sauté pan with a tempered glass lid, a 5-quart Dutch oven, stainless steel steamer basket, 10" square griddle pan, bamboo spoon, and bamboo turner.
These quality aluminum-made pans and pots ensure optimum heat distribution for even and fast cooking. The pans and pots feature a spiral pattern on the bottom that helps to distribute the heat evenly for sautéed foods. They are also manufactured with a non-stick coating without PFOA so that users can cook their favorite meal with great confidence.
Cleaning and maintaining this cookware is very easy. They are dishwasher safe; hence no more struggle to wash the smooth non-stick coating. The comfortable grip handles make it easy for the pans and pots to maneuver. They are made with strong material hence making them strong and durable.
The transparent, tempered glass lids on these pots and pans enable the user to see through and monitor the delicious food as it cooks. The covers have vents that allow them to release excess pressure and moisture, preventing accidental spillovers.
.
PROS
Dishwasher safe items
The material is PFOA free
12 pieces set altogether
Enticing color
Cost-effective
CONS
Different shapes that may not be perfect for daily use
Goodful Classic Stainless Steel 12-Piece Cookware Set
If you are looking for durable cookware, this set of stainless steel pots and pans might be an option. The set consists of a 2-quart saucepan, 3-quart saucepan, 8" non-stick frypan, 5-quart Dutch oven, 10" fry pan, and 4-quart jumbo cooker. All these pans and pots have a stainless steel lid. The set also features an 11.25" splatter screen.
They are made using stainless steel material which is known to be strong and durable material. The material is also versatile and easy to clean. The set features a tri-ply, impact-bonded basis that enables them to achieve fast and even heat distribution.
There is enough reason to smile for individuals who love making delicate eggs and sticky foods because the set comes with a non-stick fry pan. The featured splatter screen provides a layer of protection against the hot grease splatters hence keeping your kitchen clean and organized.
The entire set is marked inside, making it easy for the user to measure the ingredients while cooking. The set is also dishwasher safe.
PROS
Features a smooth mesh splatter screen
Made of tri-ply based stainless steel material
It can be used in the microwave oven
Dishwasher and induction safe
Handles are built of sturdy stainless steel
CONS
Side handles are not insulated
Goodful Aluminum Non-Stick Sauté Pan
Goodful is known for making one of the best cookware for homes. Among the best product they make is the Goodful aluminum non-stick sauté pan. This set is made up of a 5-quart jumbo cooker sauté pan that features a tempered glass lid. The pan is well designed with a non-stick coating that enables food to slide easily out of the pan.
The non-stick coating pan was made with a health issue on the mind. The coating is manufactured without the PFOA, hence no worry about a health problem. You can therefore cook your favorite meal with a lot of confidence. Aluminum is a material that facilitates the optimum distribution of heat in a fast and even way.
The handles are well designed, making it easy to handle the pan without any danger. The pan is also dishwasher safe making it easy to clean and care for the pan.
PROS
Heat-insulated turner
Non-stick material
Long-lasting smooth coating
The charcoal grey color that looks beautiful
Larger inner diameter
Goodful Carbon Steel Wok
The carbon steel wok is another Goodful cookware that is elegantly designed to deliver authentic results in the kitchen. It is made of carbon steel, known to be a strong and quality material that distributes heat fast and evenly. The material is also naturally non-stick allowing food to slide out of the wok effortlessly.
The set is made with a high-quality wooden handle that is well crafted to enable perfect technique cooking control and maximum comfort. The design of the 13-inch flat-bottom wok complements a high-cooking performance on different cooking surfaces. It looks great on various surfaces such as an electric top stove, ceramic stove, induction cooktop, glass stovetop, and other direct heat sources
The natural non-stick mechanism of the pan allows everything from searing, pan-frying, brazing, flash frying, boiling, steaming, and many other cooking techniques. It is advisable to wash the pan in warm water before use, especially when it is new
PROS
Resistive wooden lid
Non-stick stability
A strong combination of wooden and carbon steel material
Great cooking results
Sustainable voluminous pot
Strong handle and durable lid
Goodful Aluminum Non-Stick Square Griddle Pan
This is another cookware from Goodful made of aluminum, a quality material that facilitates excellent heat distribution. The set features an 11" square non-stick griddle pan together with the nylon pancake jumbo-turner. It has a well-crafted design that enables the user to cook comfortably.
The durable non-stick coating makes food slide easily out of the pan, and it is manufactured without PFOA so the user can prepare the meals with confidence. It comes with the jumbo nylon pancake turner that is safe for use on different non-stick surfaces. The turner has a large size that is good for flipping larger food items such as omelets and pancakes without scratching the cookware.
PROS
It offers a nice cooking experience
Non-stick mechanism
Cost-effective
Made of strong and durable handles
Features a jumbo nylon pancake turner
CONS
It does not have a transparent lid
Also Read:
Conclusion
Products from Goodful cookware are great, and most of them achieve a top rating considering their quality. If you are planning to find quality cookware for your home, this prospectus Goodful cookware review will make your decision very easy. The above-reviewed products are all dishwasher safe, and they do not sustain stains after cooking. You can get any from the above lists, and you will experience a fast and smooth cooking experience.
FAQ:
Can Goodful pans go in the oven?
The Goodful Non-Stick Cookware is designed for stovetop use and should not be used in the oven.
Is Goodful cookware safe?
Goodful cookware is so safe that it's made out of PFOA-free materials. You can use your set in the dishwasher, oven or any cooking strategies and you will have a durable product for everyday usage!
Do Goodful Nonstick Cookware sets work on induction cooktops?
No! The non-stick coating is not magnetic and does not support the higher heat that an induction stovetop requires.
Can Goodful pots be used on a gas burner stovetop?
The Goodful Nonstick Cookware is durable and safe to use on a gas stovetop.
Can you use metal utensils with Goodful pans?
Goodful pans are not compatible with metal utensils. We recommend using silicone or nylon utensils to prevent scratching the surface of your pan and potentially ruining it all together!
How heavy are Goodful pans?
Goodful pans are lightweight but durable. If you're looking for a new set of cooking utensils, I suggest these!
Where is Goodful Cookware made?
Goodful Cookware is manufactured in the land of an ancient culture, China.
Does Goodful cookware have a warranty?
Goodful Aluminum Cookware comes with a limited lifetime warranty against manufacturer defects.