A perfect tea can give you a strong start in the day or wash all of your stress after a rough day. For making a warm and ideal cup of tea, you need a fine teapot. A pot keeps the water or licker nice and hot. You will find many types of teapots in the market according to their material quality. Mostly ceramic pots are much efficient than standard metal and glass pots. Ceramic is a nonconductor of heat, and it can keep the fluid hot for a more extended period than any other material.
If you are looking to buy quality ceramic teapots on a reasonable budget, I'm recommending the top 5 teapots according to price and quality.
Best Ceramic Teapots
EDITOR'S CHOICE
BonJour Ceramic Tea Pot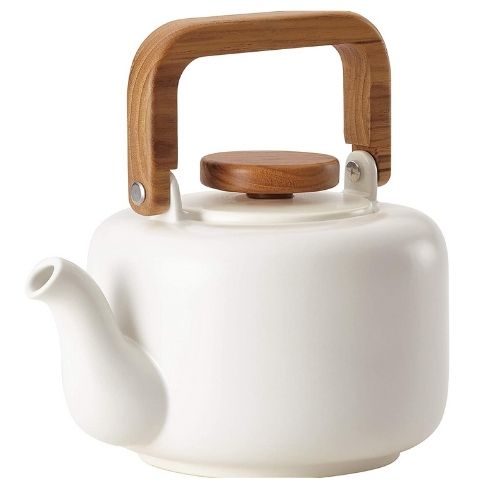 8-cup capacity
Stylish teak wood handle
Stainless steel tea infuser
PREMIUM PICK
Cosmos Ceramic Owl Teapot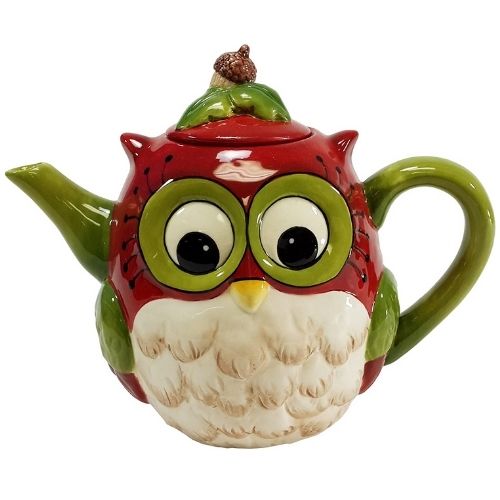 High quality ceramic construction
Hand wash only
Amazing choice as a gift
BUDGET PICK
Adagio Ceramic Teapot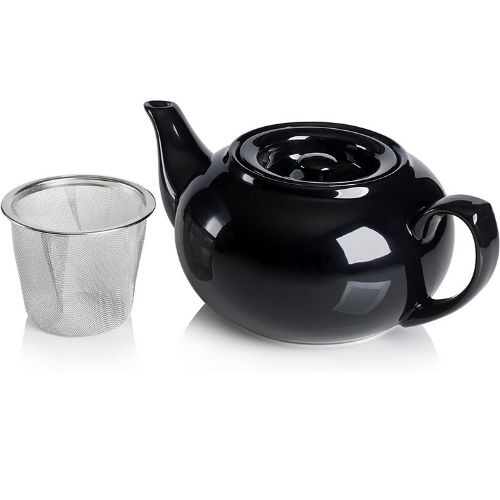 Glossy ceramic construction
Stainless-steel infuser basket
Dishwasher safe
Cosmos Ceramic Owl Teapot
Features:
High quality ceramic construction
Hand wash only
Amazing choice as a gift
If you are looking for a gift material or showpiece teapot, then the Cosmos ceramic pot is a beautiful item. I'm not saying that you can't make tea in it. But it's not the ideal teapot for a tea party. The owl ceramic teapot has this unique artistic vibe, which will add a remarkable impression to your dining or kitchen area. The teapot comes in green colour with an owl design in it. It has a fascinating design. With an artistic look and fantastic ceramic material Pros, there are some Cons of buying this teapot. The item is not suitable for regular use, and you can't wash it in a dishwasher; also, the outer colour has a good chance of fading with water contact. But price-wise, it's a win-win as an art piece and occasional teapot.
BonJour Ceramic Tea Pot
Features:
8-cup capacity
Stylish teak wood handle
Stainless steel tea infuser
For a sophisticated tea party experience, you need a premium teapot; BonJour Ceramics brings you a perfect product for a crowded party. Made with top-class stoneware material, the teapot has exceptional durability and design. The teapot comes with a fantastic outlook, a white porcelain exterior with a wooden lid and handle. Teapots get very hot during tea making; BonJour ceramic designers gave a proper thought and attached a wooden handle. You can hold the handle and lid easily without burning your hands. BonJour pots are also suitable for their liquid capacity; you can efficiently serve eight people in a single sitting.
Adagio Ceramic Teapot
Features:
Glossy ceramic construction
Stainless-steel infuser basket
Dishwasher safe
If you love having loose tea any time of the day, then The Ceramic Personali Teapot is the best choice for you. This elegant looking black teapot has a large infuser basket inside, which creates ample room for the leaves to unfurl freely. The teapot designed especially helps the tea increase its taste. With this teapot, you can also pour your tea without dripping any of it on your table. It has the capacity of 750ml enough for two-person, you can easily share tea with a friend. The glazy blackish look of the Adagio teapot gives your kitchen a better outlook. Adagio offers their ceramic teapot with two 0.12L cups and a stainless steel infuser. You can have tea anywhere at home or work; it's super easy to manage and clean; remove the stainless steel infuser before putting it into the dishwasher or microwave.
KOOV Ceramic Tea Pot
Features:
GOOD SIZE AND CAPACITY
DISHWASHER SAFE AND EASY CLEANUP
KITCHEN TABLE DECORATION
The tea party is the best way to meet new people and catching up with friends. For a perfect tea party, you need a proper teapot. The KOOV brand brings the ideal match for your tea party. Now you can make nice, fresh-fragrant and hot tea at your party and impress your friend's neighbours & family members. KOOV ceramic teapot is the best option for a big batch o tea in part.
The pot comes with an infuser pot for loose tea; it can carry 34 ounces of tea, almost for six people. Standard teapots usually retain so much heat; it's nearly too risky to touch them. On the other hand, KOOV designed their teapot with great care; your hands won't burn with their insulated handle and stainless infuser.
KOOV manufacturers have ensured their exterior longevity; the strong porcelain layer is made with high quality, non-toxic materials. The KOOV ceramic pots are made with pure ceramic; they are almost unbreakable and almost equal to the stoneware. It also has an easy cleaning feature, they don't stain easily, and you can use them in the dishwasher.
The KOOV teapots are a better pick for a six people party. You can make a better impression with a perfect tea and cookware collection.
Lonovel Ceramic Tea Pot
Features:
Suitable for friends tea party
High quality porcelain
Hand wash only
Teapots play an essential role in your kitchen and dining outlook. The cookware's reflect your taste and delegacy. It also helps to create a positive impression on your guests. The Porcelain teapots By Lonovel are quality teapots made with classy vintage design in the exterior body. The Lonovel porcelain pots are also known as the china pots. You can sit on your lawn in the afternoon and pour quality tea from this pot; the entire experience will be wonderful. According to users, Lonovel pots are also very efficient for coffee making. The airtight lid has a screw system in it, so hot beverages stay the best to drink temperature. Lonovel pots are also a suitable pick as a gift to your loved ones. Social celebrations such as Christmas, Birthdays, Mother's Day, Valentine's Day etc., could be celebrated with Lonovel pots. The brand also offers matching creamer bowl for sale; you can get them and some cups to complete the tea set. The Lonovel Porcelain Teapot is available online
Ceramic teapots are much healthier than regular plastic teapots; please check out the reviews before buying the products. There are many varieties in the market, try to follow reviews for buying the right product.
Buy ceramic teapots and serve a great cup of tea to your guests. Stay Healthy, stay safe.