Kitchen knives are one of the most used tools our day to day basis. For completing kitchen tasks efficiently and smoothly, you need the best quality knives. There are different knife companies out there in the market with specific features and specialties; Japanese Damascus knives are among them.
If you are not familiar with Japanese Damascus Knives, let me explain to you; Damascus knives are made with dark watery colored Damascus steel. Japanese knives have a reputation for being made from high-quality materials and exceptional designs, and a long-lasting edge. They are very effective for regular kitchen usage; you won't have to worry about sharpening your kitchen knives again. Japanese knives are used worldwide for these features; most professional kitchens in America use kitchen knives imported from Japan. There are multiple options in the market; some are original, and some are counterfeit. It would be best if you watched out before purchasing any kitchen knives.
5 Best Japanese Damascus knives for you
EDITOR'S CHOICE
TURWHO Japanese damascus Knife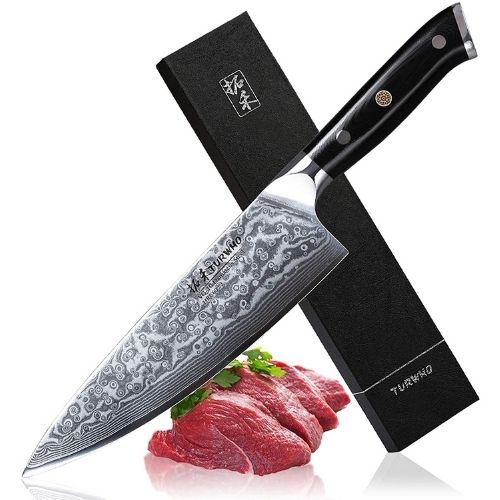 Beautiful and impressive raindrop pattern
67-layer Damascus steel
Hand wash only
PREMIUM PICK
KATSU Japanese Chef Knife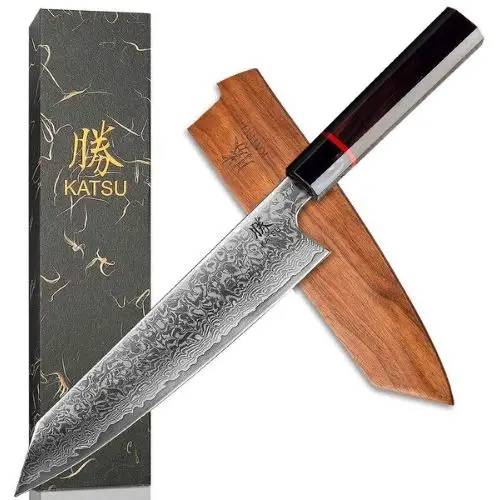 Outstanding performance advantages
Hand wash with warm water and towel dry
Amazing choice as a gift
BUDGET PICK
YAIBA Japanese Chef Knife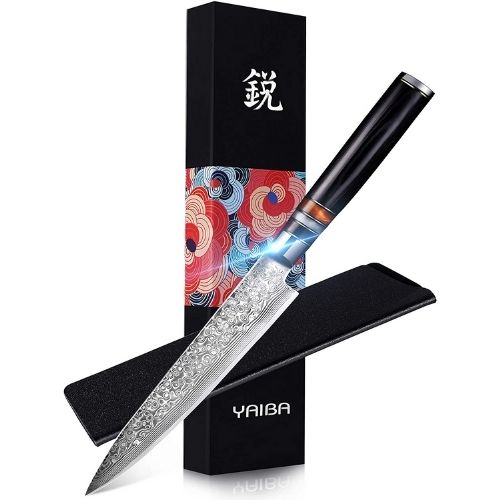 Ergonomic & Well-balanced
Great for professional chefs
100% satisfaction or money back
TURWHO Japanese damascus Knife
Features:
Beautiful and impressive raindrop pattern
67-layer Damascus steel
Hand wash only
Japanese Knives are famous for their breathtaking cutting abilities. TURWHO brand launched their Damascus knife, keeping that in mind. At first sight, the blade has the typical kitchen Damascus look with all the watermarks, typical Damascus steel colour and brand trademark. Turwho brand maintained the Japanese quality by adding multiple steel layers (33 layers). The thick layer provides the blade's strength, and the thin sharp area creates the concentration on the surface. The average cutting edge of this blade is 16-18 degree. Usually, specialized knives are seemed heavy and stressful to use.
But on the other hand, TURWHO Knives offers you a lightweight knife to keep your fist stress-free. It also has a solid grip for cutting kitchen materials. TURWHO knives have different variants as your requirements.
YAIBA Japanese Chef Knife
Features:
Ergonomic & Well-balanced
Great for professional chefs
100% satisfaction or money back
If you ever seek the ultimate weapon in your cooking station, then The Japanese Utility Chef Knife is the best one you will ever get. Questions might already rose up in your mind, but a single look at this knife will take your breath away. Made with high-quality Carbon steel, aka VG-10 Damascus Steel, the YAIBA knife has a similar design pattern in the body, whether the looks are much shinier than typical ones. The knife comes with a stunning six-inch body; its slim aura makes it more mobilized during food processing. You can cut through any food item such as meat, sushi, vegetables; it makes a spontaneous opening while mincing and chopping food. The manufacturers ensured the durability of the knife; it's stainless and rustless. You can also stay tension free with the quality control YAIBA offers lifetime customer support.
This expensive Japanese knife is a great gift for your loved ones on special days. The 6-inch Japanese utility Knife is worth every penny.
KATSU Japanese Chef Knife
Features:
Outstanding performance advantages
Hand wash with warm water and towel dry
Amazing choice as a gift
If you are looking for a multipurpose knife for your kitchen, then the KATSU Kiritsuke Chef knife is an option for you. Japanese Damascus Knives are a symbol of the passionate blade making art; the KATSU brand's chef knife has shown better outlook and quality. The knife comes in a premium looking black box with a walnut cover. At first look, you will feel the Japanese sophistication. The steel is as pure Damascus as usual Japanese knife. It has a sharp top with a unique design, known as the "(Hamaguri-ba) Damascus Blade". The KATSU designers worked hard to create the body design; the entire craft was hand made; it took a considerable time to finish every knife perfectly.
This knife is also lightweight and versatile. The designers gave an octagonal buffalo horn bolster for seeming usage. The artistic pattern and unique traditional design make this knife special for an occasional gift for your friends, family and loved ones. This multipurpose knife is a perfect fit in every place.
KYOKU Japanese Chef Knife
Features:
Fully rust resistance
Exceptional grip in the handle
67-layer Damascus steel
Made from top quality pure Damascus steel, The Japanese Chef Knife is a beautiful tool for any chef or home cook. The KYOKU brand used VG-10 steel in the core of the blade for edge retention and corrosion resistance. So, your blade will fully rust resistance, and the thin edge could be helpful for cutting food products insanely thin. The KYOKU knife is a perfect match for sushi cutting or wagyu beef cutting. With the sharpest edge of this knife, it allows to separate delicate layers from any product. This knife's Damascus steel has 33 layers on each side, with an 8-12 degree angle to increase flexibility. KYOKU chef knife also has an exceptional grip in the handle, and it comes with a G10 composite handle, a mosaic pin and a couple of rivets and a complete tang construction in the bottom. You can do almost everything with this versatile product.
LEVINCHY Damascus Chef's Knife
Features:
Handle your daily kitchen tasks easily
Resistant to stains and discoloration
67-layer Damascus steel
The LEVINCHY Chef knife is a professional Japanese Damascus knife with a commercial kitchen look. From its exterior look, I can assure you this knife will increase the outlook of your kitchen. You can use this knife almost everywhere as a multipurpose knife.
Now material wise the knife is made from high-quality carbon steel (10Cr15Mov) core. This steel material is known as the super Damascus steel; with 67 layers, the knife is stain and rust-resistant, it's also immune to discolouration. The mirror polish of the knife is also top-notch 8-12 degree on each side. Knife designers gave a stunning experience with the design; they made the handle as comfortable as they could with polished Pakka Wood.
The LEVINCHY knife is the best possible knife for fast chopping experiences and multitasks. It's a wild card for your professional kitchen. The price of this knife is quite affordable; it starts from 29 to 49$.
Final Verdict
There is no substitute when it comes to high-quality Japanese Damascus Knives. The manufacturers designed the blades caring about the entire consumer experience. Choose your kitchen knife according to your budget and kitchen type, don't forget to check the product authenticity. Recently there are many counterfeit products with renowned brand names. Buy real Japanese knives, and get a lifetime kitchen experience.